Parks and Recreation Review: Too Big to Nail
by Lisa Palmer at .
Tonight's episode, "Bailout," works because Ron wins. One smug smile from Ron and the episode succeeds. I'm all for a Ron and Leslie throw down, especially since they have such fundamentally different views of government. The idea of bailouts was such a hot button issue a few years ago with banks and the auto industry, but I liked seeing Leslie and Ron debate the idea of bailouts on a smaller scale. Both sides were highly accessible.
Jason Schwartzman was understated, but his character, Denis, worked well as the clueless and pretentious Video Dome owner. He was basically a perfect Pawnee resident. A little clueless and misguided, but his heart was in the right place.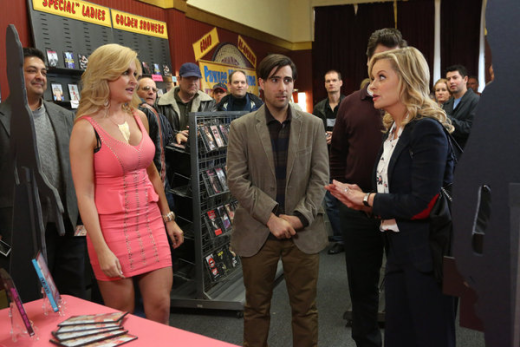 Leslie facing her porn star twin was pretty unforgettable, especially because they really did a decent job of finding someone to look a bit like Amy Poehler! And hopefully your DVR didn't cut off the last few minute of the episode since we got to see a moment in the actual "Too Big to Nail" video. Priceless.

But the best part of the episode for me was the forward motion of April and Ann's friendship and of April's ambitions. I love that April is applying to veterinary school, something that again shows her character making strides and going after what she wants. Ann predictably makes her do every overly girly thing possible to earn her letter of recommendation including talking Sex and the City and singing Time After Time. But April really came through in the end when she told Ann that she really does hope for her happiness and wants everything with Chris to work out.

Speaking of Chris, we finally got the answer to that all-important will he/won't he sperm question. And Chris is going for it! I predict that these two end up getting back together and just have a baby together. I never really understood what exactly didn't work between the two of them, but maybe the show doesn't want to put too many couples together. 

And lastly, Tom. Oh, Tom. That child-like, immature, pop culture lovin' man. Maybe he's met his match in Mona Lisa. Don't get me wrong--she's horrible for him. But at least she's a fun challenge!

Until next time, Parks and Recreation fans.

Tags: Parks and Recreation, Reviews
From Around the Web