The Carrie Diaries Review: I Know What I Want
by Leigh Raines at .
This week's episode of The Carrie Diaries had it all. "Hush Hush" featured Manolo Blahniks, Cosmopolitans, make ups, break ups betrayals.
Oh, and don't forget a grand gesture from a hottie in a red sports car, the quintessential 80s romantic move. Hell, I'd take that move in 2013!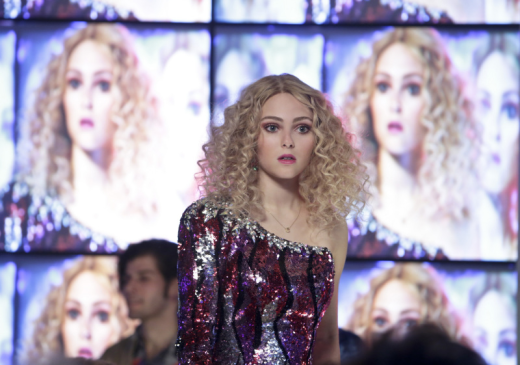 Yes, it's true, Sebastian gave Donna her walking papers. The break-up was oddly civil, but Donna insisted they keep it on the down-low for a few days so she could save face. Good thing Carrie was in NYC instead of the lock-in at Castlebury High because Sebastian was ready to make his move and nothing could hold him back! What did you expect after Sebastian ogled Carrie all night at the dance? Boy, doesn't wanna waste a minute!

Mouse and Maggie being the loyal best friends that they are were all into the idea of the grand gesture. What girl hasn't dreamed of it? There was even a big reference to one of the best romantic teen movie gestures of all time! Of course I'm talking about the swoon-worthy moment that Jake Ryan pulls up to the church in his red sports car to rescue Molly Ringwald at her sister's wedding in Sixteen Candles. Walt admitted he was a big fan of that moment...but probably not for the reason everyone else thought.

That's right, Walt's still harboring the secret about his mixed sexual feelings. These Castlebury gals make it easy for him to keep hiding it. While he was definitely upset about Maggie's cheating, I think it was more about the betrayal than having been in love with her. As for Donna, when she says "you're my boyfriend now" I guess that just made things easier for Walt. No muss, no fuss.

Carrie's life, on the other hand, was a total hot mess this week. Her New York and Connecticut worlds finally collided. Larissa was randomly overjoyed at the fact that she had a cool 16-year-old intern! Also: how hilarious was her flirtatious blip with Harlan? Tom Bradshaw was not nearly as pleased about Carrie's double life. I love what Carrie said to him when they spoke at the end. He may forbid her from returning to her job at Interview and she may be grounded for life, but nothing can take away the fact that she knows she wants to be a writer. Knowing what you want is half the battle. 

I'd be a terrible Sex and the City fan if I failed to mention Carrie's introduction to two very important elements that would stick with her throughout the rest of her life: Manolo Blahniks and Cosmopolitans. 

Maybe the reason Cinderella was so happy the shoe fit wasn't because of the prince, it was because of the shoes. | permalink

You could see the joy in her face as she slipped on her first pair of Manolos, a feeling of glee that remains steadfast to this very day. So what did you think of this week's The Carrie Diaries? I thought it had a little bit of everything and am really excited to see the developments between Carrie and Sebastian. What about you? Hit the comments! 

Leigh Raines is a TV Fanatic Staff Writer. Follow her on Twitter.

Tags: Reviews, The Carrie Diaries
From Around the Web