After last week's 90210 - that I like to refer to as "Fifty Shades of Annie" - lots of things were left with a question mark. 
"The Empire State Strikes Back" picked up precisely where we left off with Annie opening the door to her ex client/lover Patrick.
Patrick's really upset that his wife might find out he used an escort and paid for sex. Boo effing hoo. Someone please find me the world's smallest violin.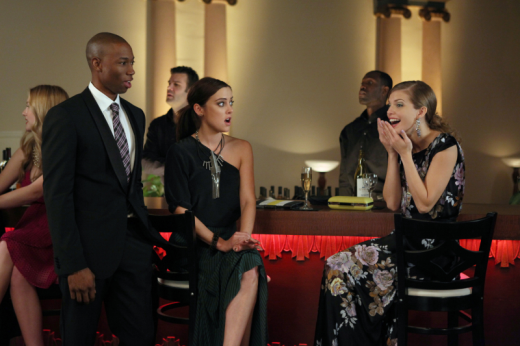 I like to say that I try and look at most situations from both sides. For instance, last week I attempted to represent both sides of the Adrianna/Silver feud, as I knew there were going to be supporters in both corners. However, when it comes to Patrick any idea of sympathy is laughable.

Let's break it down: You're a loser who cheated on your wife and paid a college student for sex. You were dumb enough to write said girl a personal check that could be traced. You were obviously not paranoid enough to make the girl sign a confidentiality treatment. Instead of consulting with a lawyer, because there is realistically probably a legal argument here, you went out and bought a ton of cocaine and put it in a strangers luggage like some psycho fraternity prank. Lastly, let's just circle back and reiterate that you cheated on your wife with a prostitute.

Nobody feels bad for you.

Onto people we do care about: Liam is still taking the reveal of Annie's book pretty poorly. He lamented to Navid at one point that he feels like he just keeps used by women. While that's definitely true in the cases of Vanessa, Sydney and I guess Ashley, Liam has to remember that Annie didn't write this book for fame.

Annie loves Liam definitely as a friend, but likely as a lot more. She took a bullet for you, dude!!! Girls who are using you just don't get shot for you! So while Liam definitely has the right to feel blindsided and upset, he has to know that she isn't using him. Losing his spokesgirl sucked, I will give him that.

I loved all of the family aspects to this episode, especially when Naomi told Mark "Don't fight, you'll lose." It's funny 'cause it's true. Annie and Naomi have become surrogate sisters and that's something I really enjoy. I was pleasantly surprised when Mark hopped on stage and auctioned himself off for Naomi. I was downright euphoric when Dixon stood up to Patrick and then surprised Annie in NYC. The brothers did well this week. Mark inspired Naomi to finally have a little confidence in herself and to worry less about creating a perfect image all the time.

I don't have to care what you or anyone else thinks, because I am good enough exactly as I am. | permalink

Well it took five seasons, but yes Naomi you are. That's the true confidence she should've had all along, not the show she's usually putting on.

So what will happen on the final three episodes of 90210? Is Annie headed for a lawsuit? Are Ade and Navid getting back together or will Ade be teaming up with Taylor Swift for a scathing duet about exes? Will Silver finally relax a little bit?

Leigh Raines is a TV Fanatic Staff Writer. Follow her on Twitter.

Tags: 90210, Reviews