The Client List Review: Splish, Splosh and Rub Me Down with Pie
by Carissa Pavlica at .
It would appear The Client List powers that be heard our cries to give Riley and Evan more time to get to know each other without the pesky disappearing-husband-turned-felon Kyle getting in the way - because in "My Main Trial is Yet to Come" Kyle's bail was revoked.
Is it wrong that I was happy about that? Judging from all y'all's comments (just getting into the Texas spirit!), I think you're with me.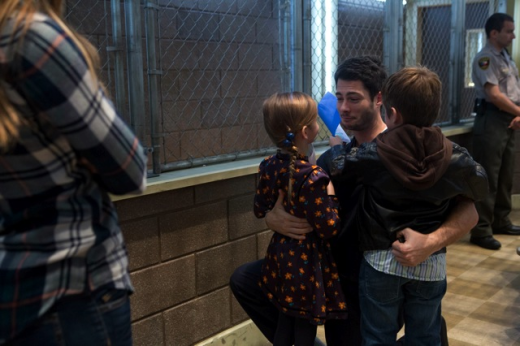 Without that bail revocation, there was no way you see the photo posted above because Riley was doing whatever she could to keep her kids from seeing their daddy in jail. But breaking their little hearts with the news he wasn't coming home and they couldn't see them proved too much.

I do admit that part of me wondered if Kyle's bail was denied because Riley chose to wear blue eyeshadow to the hearing. She's far to beautiful to make that fashion faux paux. Back me up here. That was just downright bad. She was sporting different shades of it all night. Was it the shades that made it stand out as so different or was it just my mood?

Derek, having no idea what The Rub was really about started his own little side business. Of course his reaction to joining "The Rub Club" was that it was the best job ever. Even more than a woman, can you imagine being a man in that role? I'd venture to guess that if Riley brought on more men like Derek she'd be sprouting up franchises all over Texas. Sure, that would be one frightening business to run on such a huge scale, but damn the profits would be good!

Selena had to make Nikki feel unwelcome so she quit. Her story was one that probably happens daily, but I wonder how many of the girls are as sweet as Nikki. She truly didn't deserve such bad treatment and was willing to work so hard, doing essentially anything to get through. She just had no idea how to make fast cash (I think we can all say we're in that boat) and ended up on the very bleak end of things at a dangerous club. Once Derek and Riley saved Nikki, the three of them and Selena made a pact to trust each other from now on. Given Selena's nature, can she do it? Fingers crossed!

Through all the drama, and there was a decent enough amount, the fun part was Riley's client who wanted to "splosh." Yeah, I had no idea what it was either, but I looked it up right quick. The reason he liked such a plentiful amount of oil used during his sessions was because he was actually craving a generous amount of milky, gooey, juicy, wet and messy food substances rubbed all over their naked bodies.

A food fetish. It seemed like it would take a lot of turn around between sessions (maybe a bit of Dexter like preparation?), but could be fun to play with! I just wonder what the person on the receiving end gets from it. The doer would get to eat all the goodies they chose to "slosh" with. You can always learn something new on The Client List!

We didn't get much Evan and Riley action, since Riley was busily learning about sloshing and trying to induct Katie and Travis into the "let's visit daddy at jail" club, while Evan was suffering through his first week at the police academy. The only friend he managed to make was a female with a secret of her own (maybe her father was a criminal?), and I'm hoping he doesn't lose sight of Riley while spending so much time at the academy. I know it's wrong to even think that. Evan's better than that.

The hour was a good balance between the drama, the family and the fun of working at The Rub. Sometimes one wins out over the other, but tonight the formula felt just right. What did you think?

Carissa Pavlica is a staff writer for TV Fanatic. Follow her on Twitter and on Google+.

Tags: The Client List, Reviews
From Around the Web