CSI Exclusive: Elisabeth Harnois on Season 13 Finale, Morgan Undercover and a Possible Romance with Sanders
by Jim Halterman at . Comments
How will CSI shake things up to conclude its 13th season? By putting one of their own in jeopardy, that's how.
On tonight's finale Elisabeth Harnois's Morgan Brody will go undercover (as a hooker, no less) and - SPOILER ALERT! - she may find herself in harm's way.
In this exclusive Q&A, actress tells me how the episode is laid out, who she'd love to have more scenes with next season and a lot more...
-------------------------------------------
TV Fanatic: The episode is called "Skin in the Game." I'm not sure I even want to know what that means!
Elisabeth Harnois: The case is basically that hookers are turning up dead and the one thing they have in common is this reformatory church sort of thing where the guy who runs it is this Pastor. He claims he's reforming these women and then getting them back to a good life and, coincidentally, they're dropping like flies and the Pastor claims he has nothing to do with it and he claims or he thinks that it may be one of his friends. So it comes down to me having to go undercover as a hooker and that's where the title comes from.
But it's a big decision for my character to do this because it's a very dangerous undercover job and there is a very personal reason as to why she feels very strongly that she shouldn't. Of course it stirs up a bunch of drama between her and her father because now that he's taken the new job, these are the kind of decisions he's going to be faced with, with me working as CSI at the same department as he is…I think they've written a very believable episode.
TVF: Some procedurals don't always give us a lot of character development but the role of Morgan came with a lot of it.
EH: They gave me kind of an amazing back story. They had me really get connected to one of their main characters and I came with a bucket full of drama. They have a lot of places to go with Morgan and I feel they've been very generous with me and I thank them every day. They know how much I appreciate it.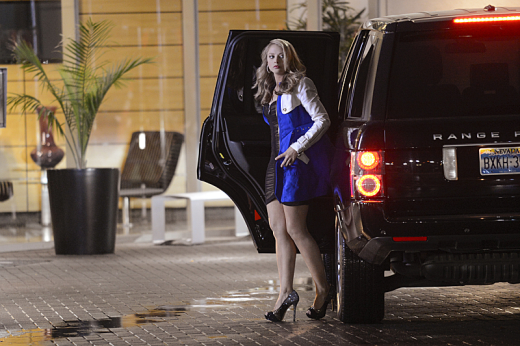 TVF: Now since you're going undercover as a hooker, do we get to see you in some interesting outfits in the episode?
EH: You will see me wearing playmate like clothing, yeah. You'll see a lot more of my skin….Morgan is a character come to this world of CSI was very much a newbie but very much an expert having been at CSI for years in Los Angeles and she also comes with a lot of sort of intentions with her father that she's going to rekindle the relationship.

First she's going to be a pain the ass and make him feel bad for being a non-existent father and then once they're past that point then this bond forms and this love forms and now it's the end of the season, we're taken to another place that threatens her relationship and it's partially due to the fact that Morgan feels so strongly about father/daughter relationships now that she has one but also that she feels that she got to have something that she wants these other women to have.

TVF: Would you like to see more of a romance part of the show or do you think it's better left as like maybe teasing and little elements here and there?
EH: I think they've already made some bold choices by giving so much character driven material to people like me and my character and Lisa Shue's character have all gotten incredible personal storylines as well as Jorja [Fox] and Eric [Szmanda], everybody's been giving it much more of their own life to the show in this season.
So I think that, that opens the door.

Just that change in the writing style opened the door for more of that stuff to happen, more flirting, more potential romance that I think that we have to really find the right balance of respecting why the show has been so successful and respecting why people have loved it for so long and not because it's a 90210. It's not because it's a night time soap opera…we give just enough to keep people wondering and I think that will come a point when people do get answers that they either want or they don't want.

TVF: Assuming you survive the cliff hanger, who would you like to see Morgan kind of interact with a lot more maybe she hasn't?
EH: I think apparently I would love to work with some of the women more. I understand why but there's only three of us so there's a lot more men on the show. A lot of our chemistry in our personal lives in terms of us becoming friends and just having things in common I think has sort of helped the writers find the directions to go concerning a storyline…it doesn't hurt that if Morgan is going to have a crush on Eric's character that they actually are good friends and we really like each other. You know what I mean?

But I think that the people that I really would want to work with more than I have thus far are Lisa Shue and Jorja. I had a little bit with Jorja and I had a little bit with Lisa but I would love for us girls to have to band together for a really cool power girl episode. Not a Charlie's Angels kind of thing but an episode that requires that it has to be them that come to the forefront. We've all said that we would love to have that kind of an episode for the three of us because we all really like each other and we're all very opinionated strong women.

Jim Halterman is the West Coast Editor of TV Fanatic and the owner of JimHalterman.com. Follow him on Twitter.

Tags: CSI, Exclusives