TV Fanatic Works Better with Prime Instant Video
CSI Episode Guide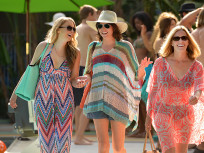 On CSI season 15 episode 5, a forensics conference attended by Finlay, Morgan, and Sara is disrupted by a mass shooting.
On CSI, the team investigates when a science teacher's experiment takes a horrible turn.
Greg and Sara are forced into quarantined when the respond to a crime scene that is contaminated by a deadly pathogen on CSI.
The team investigates when there is a robbery and shooting at a marijuana shop on CSI.
Russell gets a call from someone claiming to be the Gig Harbor Killer and Finlay finds a bomb in her car on the season 15 premiere of CSI.
When contestants of a cooking show end up eating human flesh the team investigates on CSI.
John Ratzenberger guest stars when a club owner is questioned in connection to a deadly fire on CSI.
On CSI, the team investigates a murder / robbery during a high stakes poker game.
On the season 14 premiere of CSI, Morgan Brody is being held captive as the CSI team rush to save her.
On the 13th season finale of CSI, the team investigates a series of murders resembling the sins in "Dante's Inferno"