The Client List Review: A Booty Call, A Divorce and A Reconciliation
by Carissa Pavlica at .
"Save a Horse, Ride a Cowboy" was the moving on episode. There's no more hope for Evan and Riley. There won't be a triangle. Riley is committed to Kyle and pretty much everyone accepted him back with wide, open arms. Except Lacey. She's my girl. 
Lacey was really pissed that Dale asked Kyle to play with The Ring Pops, and frankly, so was I. He didn't even ask Riley back into the band when he put it together, but Kyle comes back and he's immediately on the team? Total BS.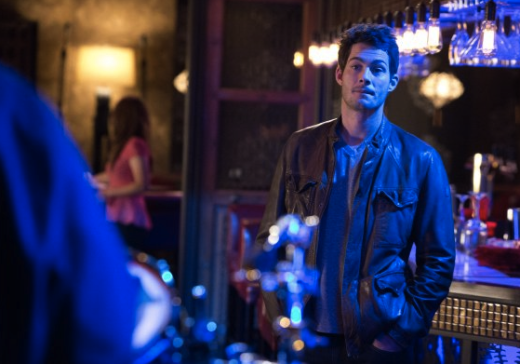 It was also surprising that Kyle lasted at Evan's place as long as he did, but not as much as the fact that as soon as he wanted to move on he just picked up an already packed bag on the side of chair and walked out the door. Being a drug addict on the run and in jail sure makes moving easy!

Evan and Shelby are an official booty call item now, and they're no doubt going to move forward. From the looks of it, the only paths Riley will cross with Evan will be of the criminal variety. Now Evan has reasons to be after both his brother and sister in law. What a family.

Selena, meanwhile, was married all this time and had a sleazebag for a husband. A con man who just wanted her money, he drained her of every penny. Thankfully she had been investing in handbags on Ebay that only went up in value so they got a good chunk of what he wanted there, because otherwise he was threatening to look into where she was getting her cash - The Rub.

The biggest downer of Selena's divorce was her reminder that she distrusted men. She decided being fun buddies with Derek wasn't a good idea any more, and when he suggested "going steady" as if they were 15 years old, she rejected him entirely. Since Nikki was flirting with Derek earlier in the hour, I'm sure there will be some entanglements going on there due to rejection and bad feelings, but I know Selena really digs Derek.

When she said I Love You to her horse, Henry - the only possession she wanted to keep from her skanky soon-to-be-ex - it was pretty obvious she was really sharing her feelings about Derek. Even though I think Derek is above petty behavior, he might just give in to a flirtation with Nikki to prod Selena into rethinking her decision to dump him.

It doesn't seem like it will be long before Kyle is living in the house with Riley and the kids again. She seems to have forgotten pretty much completely that the only reason she's involved with a whorehouse is that her husband left her with nothing. He might be able to get out of the stolen copper wire charge a lot easier than she will the prostitution charge if she gets caught.

If Kyle has a hard time thinking of her with another man, can you imagine what his response will be when he finds out what she does at The Rub? Who will he think did the painting she just got? Riley is just getting in deeper and deeper and not thinking at all.

What are your thoughts on all this? Has it been too easy for Kyle to go home? Should Riley be remembering that she's involved in felony activities because of what Kyle did to her or just let her heart lead her back to him?

Carissa Pavlica is a staff writer for TV Fanatic. Follow her on Twitter and on Google+.

Tags: The Client List, Reviews
From Around the Web