The Mindy Project Season 1 has been an entertaining ride, but at times the show seemed to lack a consistent story line as it searched for it's identity.
Mindy's relationship with Casey was the best thing to happen to her, the sitcom and a big reason why "Take Me With You" was such a great finish. 
As Mindy and Casey hilariously tried their hand at cyber sex, I figured he was actually in Haiti and she was still in New York. I was pleased to see him walk into the bedroom with his laptop. Casey wasn't going to be just another passing relationship for Mindy.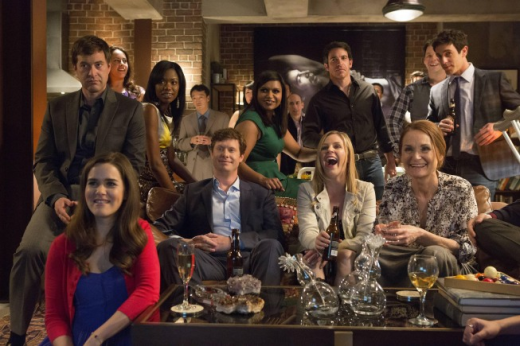 Mindy's decision to go to Haiti was very out of character and her coworkers showed just how well they knew her with their betting pool. Morgan was back on the job, but Tamra was surprisingly still as well. Up till this episode, I had been about as big of fan of hers as Danny and Jeremy were, but I loved The Price Is Right reference with regard to her bet of one day.  
Mindy may not be the best when it comes to "roughing it," but she showed why she is a good doctor when her instinct to help people took over when she sprang into action to save Morgan. 
We have seen many pillow talk scenes this season, with Mindy and her various suitors, but the exchange between her and Casey in the close confines of the tent was probably the best to date. 
Mindy: Oh my god Casey!
Casey: What?
Mindy: Your penis just knocked off my glasses!
Casey: Sorry, that's tent living you know? | permalink
At the Bon Voyage party, both Mindy and Danny felt the need to escape. Danny went for a smoke while Mindy opted for the sheet cake. After Mindy's plan to scare of Casey moved him to take a knee, she had no choice but to come clean with him in front of all their friends. Casey bid her adieu, but there was little time for Mindy to sulk as she, Danny and Jeremy were called to deliver the triplets.

Early on in the season, some viewers wondered if we were ever going to see Mindy actually practice medicine. As the season progressed we began to see her at work more and more. This week's scene of the three doctors shedding their party clothes for scrubs was probably the best of its kind and was made that much better by the choice of song.  

As Mindy ran from the hospital, I couldn't figure out why she was going all 8 Mile with her hood up, but then she revealed the new haircut. This was a fresh take on the Say Anything Boombox scene.

Perhaps the best scene, though, was the closing one in the lounge with Mindy and Danny. The music was right, they had exchanged some funny banter and then Danny reached out to clean her glasses. What made it such a great finish, however, was that they did not kiss. A kiss would have been too easy, too convenient of a closing scene. This way we were left on the edge of our seats wanting more.

Let us know what grade you would give the season and if you'll be back for its sophomore effort. 

Tags: Reviews, The Mindy Project