Drop Dead Diva Review: Old Jane, New Deb?
by Leigh Raines at .
After some back and forth between Lifetime and Sony, Drop Dead Diva has finally come back to us. It was almost like someone hit the return button from the TV afterlife!
In "Back From the Dead" we picked up exactly where we left off on Jane's wedding day to Owen. At the tail end of the season 4 finale, Grayson came to see what was taking Jane so long and admitted his feelings before kissing her. Owen walked in and fainted while clutching at his chest.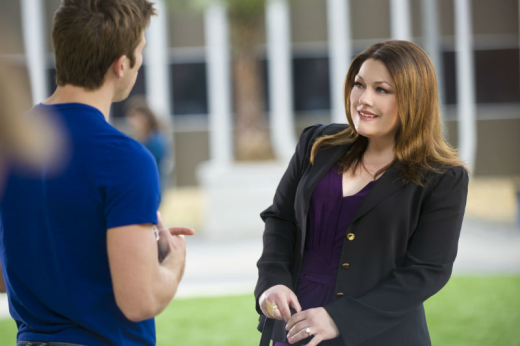 For all intents and purposes, it seemed to the world like Owen was suffering a heart attack. After all, he had heart problems throughout Drop Dead Diva season 4.

Then we saw Old Jane push the return button, the shot moved back to Owen and he gasped for air like he was coming back to life. Now I understand there was a lot of red tape to deal with and the show was actually cancelled at a point before the season 5 official renewal, but it feels like we really went off course from whatever was the originally intended storyline.

Owen didn't just faint, get rushed to the hospital without Jane and then check himself out by the time she got there. No way would that be feasible especially for a heart patient. Then when he saw her he was eerily silent and just kind of casual like "Oh, I heard you were looking for me!" I get that the writers wanted to keep us on edge about whether or not Old Jane was going to take over Owen's body. So I have to ask:

Was the that original intent before the show had all the network drama? Was the storyline rewritten? What do you all think?

It seems that Jane is very clear at this point about wanting Owen back and being over Grayson. If only she had been clear before that kiss, eh? Well the kiss happened, Owen witnessed it and Jane's last hottie guardian angel Luke got fired. The good news? Jane's new guardian angel is even hotter. Played by Justin Deeley from 90210, Paul is sexy and he knows it! I have a feeling we're going to have a lot of fun with this one. Of course by we I mean me, the audience, Stacy and definitely Teri. 

Tonight's cases were both pretty good. Jane wouldn't have been able to get pulled out of her wedding drama for a lawsuit that didn't really tug at your heart strings. A dying kid who's medical trial was being pulled by the pharmaceutical company? Excuse me, I'm a little misty eyed. Kim's case was awesome for all women who dumped a douchebag only to find out he was an even bigger douchebag. Amen to that.

However, the moment of the episode goes to Jane meeting Old Jane, who might as well be the new Deb. What an interesting twist of fate. Jane hates what Deb did to her, hits the return button and now she's a Deb look alike! Can't wait to see how this all unfolds.

What did you think of the Drop Dead Diva season 5 premiere? Are you happy Diva is back? 

Leigh Raines is a TV Fanatic Staff Writer. Follow her on Twitter.

Tags: Reviews, Drop Dead Diva
From Around the Web