After sticking her head in the sand for weeks now, Riley is finally beginning to realized the danger and peril she's in on "Whatever It Takes."
Sadly, even armed with information about potential stings, Riley is still mostly passive in everything she's doing at The Rub. There's something inside her that still isn't fully accepting of the consequences of what she's gotten herself into - and instead of taking Georgia's advice to keep clean and stay quiet she's doing the exact opposite.
Even in happy-go-lucky, sugar and rainbows Riley Land... that is completely stupid.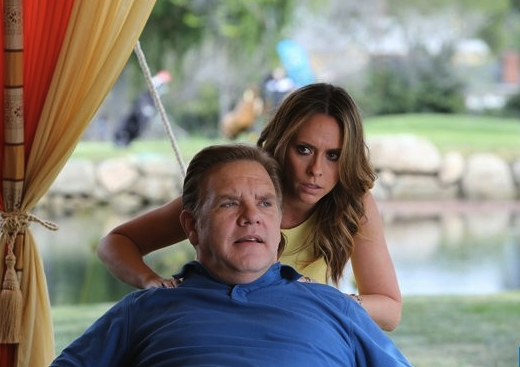 Riley assumes she can hide behind the list. In theory, the list gives her leverage to keep everyone quiet, but when nothing is quiet and everything is out in the open the list doesn't give her any protection – only more people to prosecute. This is all assuming Riley even has the list, which she doesn't because, again, in Riley Land burying it somewhere not in your direct control is a good idea.

But the suspension of disbelief doesn't end with Riley. During the tournament, Evan and his promotion finally brought Riley up to speed on what is really going on... yet Evan - who now has a badge that he can wave all over Texas - isn't able to discern the ridiculous amount of fear, apprehension and tension pouring off of Overton and Riley. Even should give his badge back. The Client List's gotten to the point where any enjoyment requires suspending all higher-level thought.

Kyle is finally free of the copper debacle and is quickly becoming the go to parent. There's nothing wrong with that, and it's good the kids are finally having a chance to be with their father again. The bad thing is Riley's work, even with her cluelessness, is taking up most of her time. With both of the men she loves quickly approaching both sides of her life, Riley is quickly looking like the one getting squeezed out of it.

The biggest headache I have with The Client List Season 2 is the attempt to polish up all of the needed imperfections. Riley falling for her husband's brother while he's in prison and providing for her family in an unconventional, but necessary, way really forced me to examine Riley's unique situation. And brought me to a point where I wanted to cheer for her and what she was doing.

What Riley was doing was messy and she recognized that last season. But now Riley doesn't recognize how complicated the ownership of The Rub is; she's completely fine with Kyle back in her life and she's basically forgotten Evan even exists. All of the imperfections have been smoothed away and the complexity that came along with it.

Unfortunately, I don't see The Client List bringing the types of stories I enjoyed back this season. I'm sure whatever trouble Riley might get into will end up getting pinned on Greg with Nikki vouching for Riley.

What are your thoughts on the episode?

Nick McHatton is a TV Fanatic Staff Writer. Follow him on Twitter.

Tags: The Client List, Reviews