Only on Franklin & Bash could practical jokes lead to a murder trial.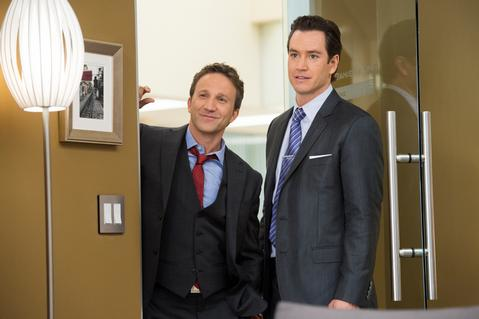 My question was, why would anyone have been friends with "Freck"in the first place? The guy seemed like such an ass. Instead of having fun, it appeared he liked to hurt people under the guise of practical joking. 
I loved how the boys walked through the crime scene at Robbie's. Jared was so calm and composed while Peter was completely freaking out over the sight of blood. 
Then again, Peter seems to be freaking out a lot this season. Perhaps because his relationship with Charlie could be the real deal. 
Tess was just adorable but what was Peter thinking when he offered her a Winnie the Pooh DVD? She's not a three-year old. For being a big kid himself, Peter's got a lot to learn. 
He's also got some serious competition. The story about Charlie having dated long time Bon Jovi guitarist Richie Sambora was hysterical, especially to fans who know that he's Heather Locklear's real life ex. 
Peter and Charlie had great chemistry. Their make out session in the car ran the perfect line between sexy and cute. She's smart and funny and a great match for Peter. I could even see him being a good step-dad to Tess in the long run.
Which was why the news of her job offer in San Francisco was heartbreaking. And even though he didn't say the words, the look on Peter's face spoke volumes. He obviously wanted her to stay.  Now the question becomes: will he man up and tell her that?
Tess and Pindar had their own chemistry. They're both Star Wars fans. They both like to explore the beach... but Pindy found something way more interesting than a coin. He found Freck.
As Pindar told the boys in this Franklin & Bash quote…
I'm on 72 different prescribed medications but I know what I saw. | permalink
Yeah, Pindy wouldn't make the best witness to put on the stand, but it was telling that everyone who knew Pindar believed his story, no matter how outrageous it sounded. Even Infeld stood firmly in Pindy's corner.

Even Damien took a turn as a cyborg this week. Well, not exactly. But when he decided to stick up for the little guy and asked Peter and Jared for help, I almost couldn't blame them for wondering if his body had been taken over by aliens.

In the end the pranking wars took a surreal twist that I'd only expect on Franklin & Bash. More important than any case, I want to know what Peter's going to do about Charlie. Do you think Peter should put his heart on his sleeve to keep her as the girl next door?

C. Orlando is a TV Fanatic Staff Writer. Follow her on Twitter.

Tags: Franklin & Bash, Reviews