Mistresses brought the "Payback" this week, as the truth led to tears and verbal smack downs all around. Let's start at the top…
Savi had a pre-work breakfast with her gal pals. Who gets to do that?!? I'm lucky if there's time to swallow my coffee.
Speaking of Savi, the gal possesses a great wardrobe, amazing house, gorgeous husband, incredibly hot work husband with benefits and even her lawn furniture looks good. Yet somehow her life is still a disaster zone.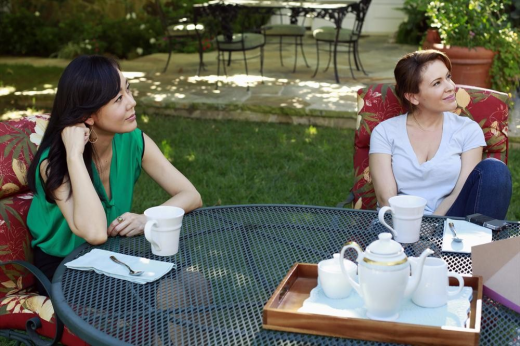 After keeping secrets for weeks, suddenly Savi couldn't keep her mouth shut about anything. She told her girlfriends all the gory details about Harry shutting her out and told Dom she was pregnant... with Harry's baby. The only person she wasn't talking to was sister Joss.
Then, when she finally did tell Joss the truth, she tore her apart and it was just cruel. First she said she thought Joss wouldn't judge her enough, then she got judgmental enough for both of them. 
Savi's quick to lay blame on little sis' lifestyle but Joss hasn't taken any marriage vows and broken them so who has the right to judge in this situation.
But the best part of the night was Savi and "Kira with the funbags." Kira was showing plenty of them with that tight little tank top. Obviously the restaurant has a pretty lenient dress code. 
Was this the first time it had occurred to Savi that the simpering little tart at the hostess station was after her husband? Now that she'd slept with Dom, she really didn't have a leg to stand on in the jealousy department, which Harry was quick to point out in this Mistresses quote...
Don't turn this on me, Savi. I don't sleep with people I work with. | permalink
Smack down delivered.

As Savi considered killing her career to save her marriage, Kira was offering Harry her couch to sleep on and telling him what a good listener she was. I'm betting that's not the only talent she'd like to share with Harry. But Harry turned out to be a stand up buy who told Kira he's married and happily or not he'll stick to his own sofa.

Of course, Savi's wasn't the only life careening out of control. 

Karen was just... can it get worse? Of course it can. To recap, she prescribed lethal doses of morphine to her patient/married lover. Then she destroyed said patient's notes. Then she rewrote fake notes to make dead lover look suicidal and handed them over an insurance investigator who hinted at a criminal investigation. What could go wrong?

Did anyone else think that Elizabeth Grey knew her husband was sleeping with Karen and has set her up to take the fall?

And why did Karen call Jacob into her office if only to tell him nothing? Karen makes me groan every time she's on the screen.

On the other hand, I loved April. Loved that she took $100 off the price of the bed since she and Richard already test drove it. Overall I think she's adorable, but come on! How many times does crazy baby mama have to show up on her doorstep before she gets herself a damn attorney? 

April was so naive and so angry at her dead hubby that she couldn't see the con artist standing in front of her. If Karen made me want to scream, then April made me want to shake some sense into her.

Joss was the only one NOT making me yell at the screen. Her boss was right about her faults. She does tend to think her way is the right way, but who doesn't? And did he really make them work extra for watching the show out the window? I guess there really is no such thing as free porn.

And am I the only one tempted to Google what a "Siberian Husky" is... and I don't mean the dog?

At heart, Joss is a sweetheart. Even stuffy Olivier had to smile when her best revenge was to fill his cabinet with bananas…for his potassium. 

So when Savi ripped into her, it was just mean. Savi took it a step too far and it hurt. Joss was right, I don't think she'd ever intentionally hurt her sister that way.

Now we're left with several questions. Can Savi fix things with little sis? Can she walk away from her career and Dom's incredibly hot forearms to save her marriage? Who is the baby daddy? Will April ever wake up and smell the scam-o-mama? And will Karen's photo prompt her to get a restraining order or hit the sheets with creepy Sam?

So much soapy goodness, so little time. Here's to hoping that ABC gives Mistresses a second season so I can rant at my TV more next summer.

C. Orlando is a TV Fanatic Staff Writer. Follow her on Twitter.

Tags: Reviews, Mistresses