Pretty Little Liars Review: Gamma Zeta Snore
by Teresa Lopez at .
Staying involved in the Pretty Little Liars universe is certainly an endurance test sometimes - one with very little pay off. Weeks of boring episodes have really tried my patience, and seasons of convoluted mysteries have left me wondering if there's every going to be a light at the end of the mysterious tunnel.
"Gamma Zeta Die!" continued this season's frustrating trend of providing very little action until the last few minutes. Even then, I wasn't all that involved in Hanna's fate because...well...Hanna's being very stupid lately.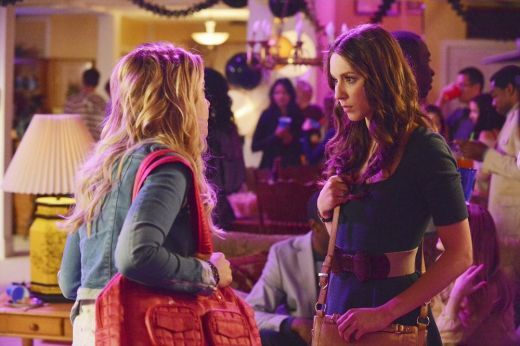 I would like to start by pointing out the few things I did like in this episode.

ONE: Emily putting Spencer in her place. Spencer's actions have been frustrating and irritating since she found out about Toby, but her attitude at Cicero College was less annoying and more stuck up. From her disdain for the school to her condescending attempts to bond with a "geek," Spencer was begging for someone to give her a reality check.

Yeah, it really sucks that she didn't get into UPenn, but does anyone honestly think she won't get into a great school with her years of overachieving and wealthy parents? Emily couldn't stand Spencer's holier-than-thou attitude about Emily's flirting with Brendan and general snotty behavior, and I was pretty tired of it too. Emily could have checked out the school while helping Spencer solve the mystery of the phone number, but Spencer acted as though she needed her full attention. Spencer's attitude was very hypocritical, especially as she's been hiding the truth about Toby and the RV.

TWO: While that was a juicy scene, the only other thing I really enjoyed this episode was the unintentional humor of the moments between Mike and Aria. When Aria saw Mike, she asked, "When did you get home?" Seriously, where the heck has he been?

But the scene between the two reached new levels of awesome when Mike accused Aria of wanting their mother to go to Europe so she could start "boffing" her teacher again: "It's hard to get frisky with Fitz when someone's looking over your shoulder, huh?" And I'm sure "frisky with Fitz" is now trending.

Perhaps, the most disappointing aspect of the episode was Hanna reaching new levels of idiocy. Has she learned nothing from all her past attempts to help others? She just causes more trouble. As Spencer looked for Hanna, she warned Emily, "We have to find her before she does something really stupid." And that's Hanna's character in nutshell! Don't the writers and Ashley Benson get tired of the same dumb blonde routine?

And I'm sure her mistake with the gun will bring even more police attention to Ashley who I'm still not completely convinced murdered Wilden. But she did need to get some legal counsel!

Equally frustrating was the ever-deepening mystery surrounding Ali's last summer and board shorts guy. So the phone number came from a crazy weird room in a Cicero College sorority house that formerly had a somewhat abusive house mother named Carla Grunwald. I'm guessing Carla will somehow be important in the future, but why are the writers creating so many more complications? Let's hope this Carla woman isn't just another red herring.

What did you think of the installment? Weigh in now and then later in the week in our upcoming Pretty Little Liars Round Table.

Tags: Pretty Little Liars, Reviews
From Around the Web