This week continued the trend of a less fantastic killing on The Glades, as Jim wadded waste deep in "Gypsies, Tramps, and Thieves" while trying to determine who actually killed his victim. 
I'm glad that the show has toned down the murder plots just a little. After the dead-on-its-feet offering of a zombie plague, it really was getting close to being too much for me. 
I can also say I had not picked Inna (Lilly) as the killer. I really thought it was going to come back to Stefan. Michael Irby plays a bad guy so often that I let my recognition of him cloud my judgment, as usually the culprit is the guy you most recognize. Well played, writers.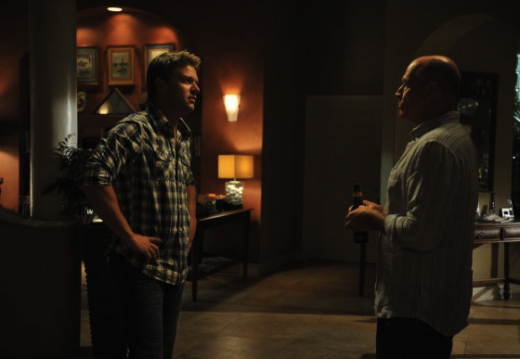 But the weekly murder aside, this episode was about meeting the patriarch of the Longworth clan, Michael Longworth, Jim's dad. Corbin Bernsen was an excellent choice to portray Jim's father, he has the charisma and charm to standup to Matt Passmore and the ability to play comedy and drama equally. 

Callie proved my point as to why you should never answer the front door naked without looking through the peep hole. Okay, I'm not nearly as attractive as Passmore or Sanchez, so I would never go to the door in my birthday suit unless I was on fire and was running outside to stop, drop and roll. 

But nudity aside, I'm thrilled see Jim around some family. Of course, we knew from the way Jim was reacting to his dad on the phone and at the station house that there must have been some father/son issues... and we did get at least a brief overview of that as they raided the storage locker. 

It's unusual for us to see Jim rattled or unsettled, but Michael's confession that he doesn't want to retire seems have done just that. I'm going to guess that him wanting to stay a few extra days doesn't bode well for the family dynamic. 

Granted, that means we may get to see more of the Elder Longworth next week. Additionally, I hope that we get to see Callie and Jim go to Chicago to meet his mom in the near future. A field trip to The Windy City could make for a cool episode. 

Overall, I'm giving the episode 4.6 trips to Rio in honor of Michael Longworth's visit. Here is hoping we get more!

This week I leave you with a question: If you could pick any actress to play Jim's mother, who would it be (and why)?  

Jim G. is a TV Fanatic Staff Writer. Follow him on Twitter.

Tags: The Glades, Reviews