On "Sleeping with the Frenemy," Jo and Danny continued with their resolve from last week's Twisted to try to be more social, as both of the friends attempted to bond with their Green Groove classmates... albeit for different reasons.
Danny had his first soccer game as a Green Grove Grizzle and let's just say it could have gone better.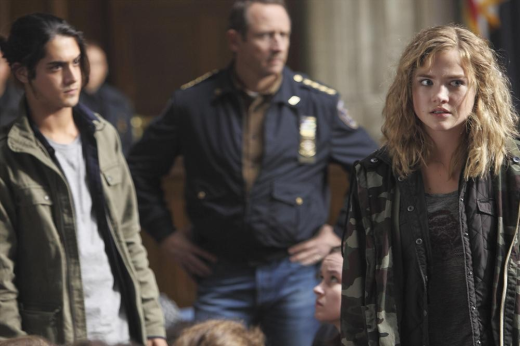 Things started out fairly well for Danny on the squad. If his team was scared of him, he reasoned, just imagine how scared the opponents would be! Danny knows to poke fun of himself at this point. If everyone else is going to say it, he's not going to just ignore the taunts.

All kidding aside, it didn't take the team very long to see that he would be an asset and was an excellent player. Archie was reluctant to accept it, but Danny was able to get his first fist bump elsewhere. Poor Rico was jealous. I'm glad that Danny and Rico got to hang out on their own, they both really need a guy friend.

Girls are horrible snarky monsters. Give me guy friends any day. | permalink

It's safe to say Jo would have definitely rather been at the diner than Lacey's awkward sleepover. However, she sucked it up to try and get the inside info on Regina and anything else that might be helpful to clear Danny's name. Big ups to the writers and props department for having the girls play "Cards Against Humanity," which is the most inappropriate yes hilarious card game out right now. The majority of the answers would have been bleeped off of ABC Family.

I'm definitely warming up to Phoebe's character. She may have been a little Jessi Spano on speed-hyper at first, but at least she's not a sullen bitch like Serita. Sorry, but I am still not a Serita fan.

What do you all think about Archie's explanation for the DVD and his alibi? I guess they could easily add up, but that DVD wasn't exactly a highlight reel. It looks like Regina admired Archie for a bit more than his soccer skills. I'm not totally sold on Archie's innocence.

It also looks like Karen is no longer completely sold on her son's innocence now that she found Tara/Regina's necklace hidden in the cup holder of the chair. She clearly had no idea Danny had it. I still have this weird blind faith in Danny that I'm sure many viewers can relate to, but he needs to start giving us and those helping him some answers.

What did you think of the latest episode of Twisted? Is Jo set to have her heart broken? 

Leigh Raines is a TV Fanatic Staff Writer. Follow her on Twitter.

Tags: Reviews, Twisted
Want more Twisted?
Sign up for our daily newsletter and receive the latest tv news delivered to your inbox for free!
More From TV Fanatic
On tonight's Tyrant, Jamal and the Sheik meet for negotiations. Will they come to an agreement?
It was the start of the reunion show on The Real Housewives of New York City as the ladies took their places on the sofa next to Andy Cohen. We recap the bad dialogue and delusional drama in our +/- review.
Who can be trusted? On tonight's Covert Affairs, it's clear that it's important to trust others, but also a huge gamble.
Jane and Maura get drawn into the world of rare books and coded confessions when a book seller hiding a secret is murdered on Rizzoli & Isles.
---