Twisted Episode Guide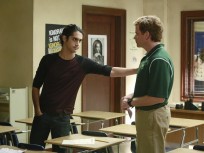 Jo asks Charlie for help when she decides to run for student body president on Twisted.
Danny gets a huge amount of money which adds tension in his relationship with his mother on Twisted.
The homecoming dance looms near and things become tense for Danny and Lacey on Twisted.
Danny begins to have doubts about deserving a second chance and the mayor has a surprising connection on Twisted.
New secrets and shocking truths are revealed when Twisted returns on Feb. 11th.
On the summer finale of Twisted, Lacey must choose between justice for Danny and an opportunity for herself.
After the poisoning incident on the soccer team, Regina's mother wants Danny expelled from school on Twisted.
Lacey's father comes to town keeping a big secret while Lacey and Jo reveal some serious evidence and Danny and Kyle decide to join forces on Twisted.
Danny throws a party at his house and is the target of a bunch of pranks. Read our review of this week's all new Twisted!
Jo and Lacey pressure Danny into telling what he's hiding while at Pheobe's brother's party at a cemetery on Twisted.