Perhaps this week's episode of Twisted should've been the one titled "Sleeping with the Frenemy" and not last week's?
Yes, Lacey crossed nemesis lines in "The Fest and the Furious," sharing a passionate kiss that is sure to piss off possessive boyfriend Archie.
Speaking of... where was good ol' Grey Damon this week? Filming his new CW drama?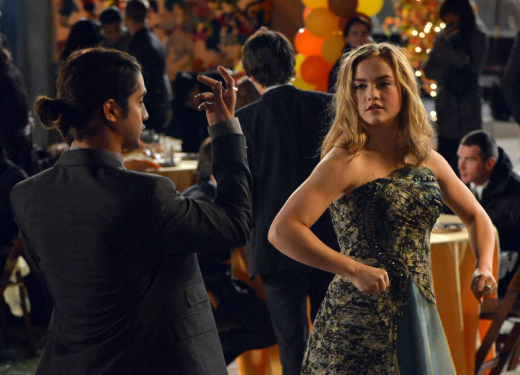 Jo isn't going to be very happy when she learns about that smooch either. It's so obvious she's falling for Danny. It's the oldest story in the world - and no I'm not about to quote Nathan Scott. What I mean is, how many times do you hear about or see a movie about childhood besties who grow up and fall in love? It's too bad this is turning into more of a love triangle than a date with destiny.

I mean, c'mon, Jo actually took off that ugly mustard colored sweater and put on a dress. Doesn't Danny realize she has feelings for him? The rest of us do, especially Tess and Kyle Masterson. By the way, I love when Kyle talks about presenting a united front in their parenting skills. It's not his fault, but I will always picture him as the coke-snorting Captain Archibald from Gossip Girl.

So I graded tonight's episode a little lower than usual only because it feels like we are really dragging our feet on the main issues. I know we finally have some new evidence and Rico witnessed something huge, but all in all it's mostly the same. Everyone in town is mean to Danny, Jo is his only friend, the necklace is the focal point and tension abounds.

Can we just all admit that Danny as Regina's murderer is just too easy? Jo put it best when she simply stated:

Why would Danny kill Regina and then take the one thing that would make him look guilty? | permalink

We all know Danny has the necklace, but I don't think he killed Regina. I think the person who murdered Regina is the one who sent her that note and I'm guessing it might be someone we haven't met yet... maybe Chris Zylka, who has been photographed on set? My bet's on someone brand spanking now who will shake up Green Grove even more. Also, how dumb does Lacey have to be to not give that evidence to the police? Now Danny's fingerprints are all over it and Jo's will be too.

What do you guys make of Karen throwing the necklace in the river? Town resident attacking Danny: crazy or justified? Will Danny and Lacey extend into a full fledged love triangle with Jo?

Leigh Raines is a TV Fanatic Staff Writer. Follow her on Twitter.

Tags: Reviews, Twisted