"New Birthday" was a rather sedate episode of Ray Donovan, despite the fact that Ray got the crap beaten out of him, Bridget almost got raped, Abby was arrested and Ray put a hit out on Mickey. Apparently, in the land of the Donovans those things are pretty minuscule in the overall picture.
I missed the interaction of side characters like Ezra and Ray's brothers. Although we saw glimpses of Terry and Bunchy, their time on screen was diminished greatly due to Ray's trip to Boston. It took a lot of time to hunt down the elusive Sully we saw at the end of "Housewarming."
They gave us absolutely no indication what Sully did to become the FBI's most wanted man, but he's been in hiding for decades. Despite that, I kinda liked him. Maybe it's just that James Woods can make the most insane of characters seem appealing, but Sully was genuinely surprised that Ray would choose him to kill Mickey. Flattered, I'd say, and perhaps excited at the opportunity it might give him to get the hell out of the U.S. once the job was accomplished, but shocked at the choice nonetheless.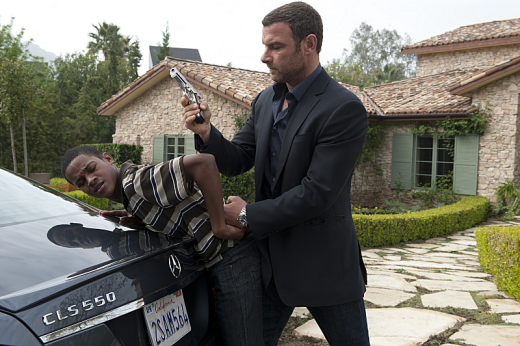 We finally found out how Sean Walker fits into the overall picture. He's not just a mega movie star who happens to be a client of the business for which Ray works, he may have been the man who actually killed the woman that got Mickey sent away for 20 years. There was a brilliant way for them to share the story with viewers.

Mickey sabotaged Sean's screening of his first movie, the one that apparently got them into the same frame of life, "Black Mass." Mickey played it as an idea he had for a movie Sean should make about a hot shot young actor who shot a girl in the head and framed a working class man for it and went on to become the biggest actor in the world, while the working class man spent 20 years in prison. The crowd loved it and forced a verbal "deal" to be made on the spot. Well played, Mickey.

Now Sean is as entranced as every other idiot who makes Mickey's acquaintance and planning a multi-picture deal based upon his ideas. All this while Van Miller is targeting Sean along with Ray, Ezra and Lee. It's almost idiotic enough to be like real life.

Of course, Ray knows none of this, as he's in Boston hunting down Sully and getting the run around by everyone who protects him. 

While he's away, his family is playing. Abby was hanging out with Deb, shopping and getting drunk thinking of Ray, something she only does when he's not around and she's being a bad girl. So bad that they thought shoplifting with not the least bit of secrecy was a grand idea. Ray made it home in time to get Abby out of jail, but not before she had Deb wetting herself with laughter on the sidewalk right outside the store. 

Bridget was busily trying to take Marvin Gaye's mind off the fact that his mother was killed and her father knew about it but recording with him and getting a bit randy. To Re-Con's credit, it was a huge thing he did recognizing what Marvin must have been feeling, offering up a new birthday in recognition of his new life, complete with a cake with a huge number one on it. Re-Con is about as good as Marvin was going to get in a rapper parent/guardian.

But things, as they do, got out of hand. Whether it was Marvin's bad mood or his new life making him feel a bit uppity, he tried to get Bridget to "satisfy" him. That didn't go over too well and she made it out unscathed, but scared to death. It's a sad state of affairs when Bridget was blaming her father and his life on what Marvin Gaye did (or almost did) to her. As soon as Ray wanted to protect his daughter and let Marvin know what was what, I could imagine Bridget would have rather just given Marvin what he wanted than face the wrath of her father.

Ray's FBI contact tried to get closer to Van this week, but Van's a tough nut. Or, just a nut. Someone gave Frank the video of Van attempting to do his roadside sobriety tests, so I'm thinking that will buy Ray and friends a little time, but I'm not sure how much. Hopefully enough to get Sully into town unseen and safely tucked away in sunny Los Angeles. 

The addition of James Woods to the cast is going to be fun. I'm looking forward to him interacting with Ezra. I don't think we'll get a chance to see he and Jon Voight together unless one is running from the other, but who knows the plans? I'm just going to ride along and enjoy.

Carissa Pavlica is the managing editor and staff writer for TV Fanatic. Follow her on Twitter and on Google+.

Tags: Ray Donovan, Reviews