Much of this week's True Blood episode dealt with Arlene coming to grips with Terry's death as she prepared for his funeral.  
Elsewhere, "Dead Meat" had an opportunity to cut away some dead weight with regard to Alcide and Sam's arcs, but instead brought the two together over a bottle of whiskey.
It was bad enough Alcide had to fight Rikki, but to get an earful from her afterward about how his showing her mercy was a weakness? Ridiculous. Glad to see his pack days are, at least for now, behind him. I was sort of digging he and Sam's little bonding session, but the introduction of a baby had me shaking my head. We've already seen Andy playing the befuddled father this season. I feel like Sam's arc is being written down that same road.
Maybe the writers should think on it and drink on it like Alcide and Sam did.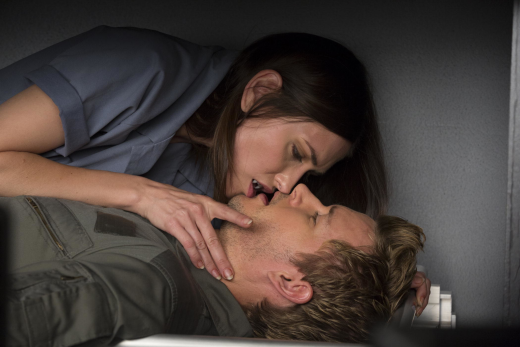 Moving on from cold beers to crispy bacon, Lafayette extended his lead in the MVP department as he cared for Arlene.
Lafayette: You gotta eat yah grease to beat the booze. | permalink
Aside from that scene, I felt like way too much time was spent on Terry's death and the funeral arrangements. I would love to see Arlene, Alcide or Sam's roles diminished if it allotted more screen time for Sarah Newlin, who continued to deliver comedic moments mixed with her fiery temper. Seeing Steve on the hamster wheel was fantastic.  
Sarah Newlin: It is scientifically impossible for you to be this f**king slow! | permalink
Sarah also showed she isn't afraid to get her hands dirty as she Manolo'd Ms. Suzuki to death.

Elsewhere, Jess and James made goo foo eyes at each other while Violet laid down the law for Jason and let him know how things were going to work for him and her going forward. Strangely enough, I think Jason may end up liking her. I think it is safe to say, not many women have made Jason work for their affection, so this experience may prove interesting for him. 

As for Sookie, I thought the scene where she stood over her parents' graves and spoke her mind was her best of True Blood Season 6. Death is not the end, but it could be a new beginning for her. That is, of course, if Eric didn't completely drain Warlow.

After wondering where he was for much of the episode, in the end we saw just how busy Eric had been. Shrewd move by him to drink Adeline's blood to gain access to Warlow in fae world, but his best moment came when he glamoured Holly's sons and took special care to make sure Adeline's honor remained intact. That Eric Northman is a good "man."  I loved seeing Bill's temper flare up as he followed in Eric's wake, cursing his name.  

Like Pam's session with the doctor, this episode was oozy but productive in the end. I could have done without much of it, but I liked how it gained momentum toward the end as Eric got things rolling.

Are we headed toward a daytime drama where Bill and Eric will square off in the sun? Or will they continue to work together and save their friends from the True Death?

Tags: True Blood, Reviews