You gotta try taking risks, without second guessing yourself or worrying about the consequences.
Ryan's honest, emotional sharing with Jenna - after saving Wilfred from her burning house - finally forced her hand. With that epic smooch at the end of "Heroism," Wilfred laid a bomb on us.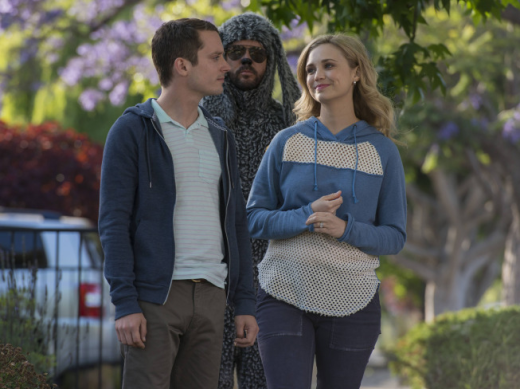 Since Day One, the will they/won't they vibe between Ryan and Jenna has been present, with varying levels of prominence. His crush on her, and her apparent feelings for him, have never felt forced and have never become annoying.
This season in particular, in which Ryan has kept his distance from Jenna since "Delusion," has handled their relationship extremely well.
That time apart definitely made the hearts grow fonder, and their increased time together in "Heroism" made both of them aware of how great it is to be around each other.
Once Ryan realized that he wasn't protecting Jenna by staying away from her, it was all over. He was able to be himself; intelligent, kind and comforting, and that quote pulled at the top of this review was exactly what Jenna needed to build up the courage to go in for that kiss.
But what will come of it? Nothing? Does she just forget about it? Or does it simply make her act weird around Ryan and/or Drew? What if it made her seriously question her marriage? She couldn't seriously leave Drew for Ryan, could she?  Does Wilfred work with Ryan and Jenna together?
The emotional stuff between Ryan and Jenna was working like gang busters this week, but Wilfred and his need to be a hero dog was just as great.
Wilfy acting tough and then getting scared is never not funny, so his bout with the pigeon got things off to a great start.
His turn as a fake police dog, giving out crazy warnings, his attempt to dial 911 and him pouring his liquor into a dog bowl were all great moments in another fantastic episode of Wilfred Season 3.
Check out some of our favorite quotes from "Heroism" below, head over to our Wilfred quotes section and then let us know what you thought of this week's penultimate episode.
Wilfred: Do you know what she said to me? Why don't you find a real crime to solve, McGruff? And you wonder where he gets it from. | permalink
Wilfred: The home security system to a dog is like the cotton gin to a slave. It's an insult. It says you're easily replaceable. | permalink
Wilfred: I couldn't have said it better myself...because I can't say things, because I'm a dog. | permalink
Wilfred: I'm a complete failure. My father was right about me when he looked me in the eye and said [starts panting]. | permalink
Wilfred: Bear! Don't live! I can't go on without you being dead! | permalink
Dan Forcella is a TV Fanatic Staff Writer. Follow him on Twitter.

Tags: Wilfred, Reviews
Want more Wilfred?
Sign up for our daily newsletter and receive the latest tv news delivered to your inbox for free!
More From TV Fanatic
Usually it's insults that get tossed around on The Real Housewives of New York City Season 6 Episode 20 but Aviva threw out a leg. Her own! On the dinner table. We attempt to make sense of the nonsense in our +/- review.
On Perception, Daniel and Kate try to track down a missing baby. Kate also must deal with Donnie's talks about their own future children.
Aria finds some interesting clues as she begins volunteering at Radley while Hanna continues to struggle with Alison's return.
With Maura away, Jane must rely on Susie's help to solve the perfect murder on Rizzoli & Isles.
---