How i Met Your Mother kicked off its final season this week, as the gang set a course for Farhampton and the big wedding between Robin and Barney.
On "The Locket," the first half of the two-episode premiere, fans piled into the car with Ted and Lily. Even before Ted put on the driving gloves, Lily must have known she was in for some vintage Mosby moments. Lucky for us, she found an alternate route and boarded the same train as the mother.
I loved the way the two future friends met. Ted's wife definitely would be someone who would ask if a fellow passenger was okay after seeing her distraught. I also liked how she tried to lighten the mood by joking about the cookies.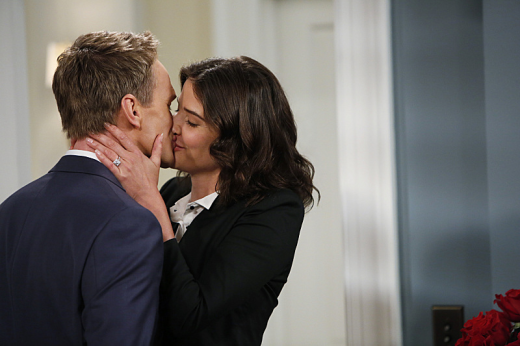 The more I got to see the mother, as she spoke with Lily, the more I started to see her looks as a blend of both Lily and Robin. Did anyone else observe that? Either way, I adored seeing how Lily and her met. Hopefully there will be a story to go along with how each of the friends are introduced to the mother, leading up to the eventual moment with Ted.
The other highlight of the episode was Barney and Robin's ride with Ranjit. Calling attention to, and naming, the phenomenon that is the Wedding Wild Card is the brand of writing that has made this show a success for so many seasons. Taking the scene to the next level of funny, though, was the realization by Robin and Barney that there was a chance they might be related. Barney and Robin have great chemistry but they were equally enjoyable as they struggled to digest the chance of incest. 
With the mystery of Cousin Mitch cleared up, Barney was able to confidently speak about the wedding again and delivered probably the best scene of the episode with the following exchange. 
Barney: Our wedding is gonna be legendary.
Robin: No wait for it?
Barney: I've got you, I don't have to wait for it anymore. | permalink
If there was a weak link to the episode, it was Marshall's storyline. Guest star Sherri Shepherd was given few good lines to show off her talent. The whole Pilates conversation was a stretch (pun intended). I did love that Marshall's mom still had a dial up modem though. That was a great touch. 
As we rolled into the second half, "Coming Back" introduced us to Curtis, the overly opinionated hotel desk clerk played by Roger Bart of Revenge. The employee of the month award, however, goes to bartender Linus for his committed effort to giving Lily the Kennedy Package. It was thanks to his cocktail competence that Lily let loose the news about James' divorce and produced my biggest laugh of the night. Thankfully Barney was able to take the news in stride and quash any concern Robin had.
Barney: No Robin, I am not going to a strip club, especially right now. Can you imagine the day shift at the Crab Shed? | permalink
The honeymoon suite he had set up for his brother was hilariously over the top, in typical Barney fashion, but also a truly thoughtful gesture. I also enjoyed the flashback to the origin of the Stinson curse in Russia. Did anyone else think the part when James introduced his partner in the carriage as just his platonic friend from work was a little shot fired by the writers at Russia's president Vladimir Putin and his policies toward gays?
Marshall's arc improved in the second half as Daphne returned with the car seat and showed:
When you believe in people, people come through. | permalink
Lastly, the scene where Ted and the mother sat next to single Ted was just great. Their interaction was so natural and genuine, complete with her teasing Ted about how he probably had been showboating while doing the crossword. It was one of many well written scenes that really focused on the characters we have grown to love and care about. I, of course, am looking forward to seeing the Ring Bear, but also some more intimate moments like we saw tonight. I also really hope Ted doesn't manage to throw a wrench into the wedding plans, but I feel like that is inevitable still.

What did you think? 

Tags: How I Met Your Mother, Reviews
Want more How I Met Your Mother?
Sign up for our daily newsletter and receive the latest tv news delivered to your inbox for free!
More From TV Fanatic
On tonight's Gang Related, Ryan was forced to make a difficult decision. Which side did he chose?
On the latest episode of Satisfaction, Neil learns an important lesson about being honest with himself from Adriana while Grace struggles on her new job. Read on for analysis.
On Rookie Blue, Oliver turns down extending his contract as Acting Staff Sergeant until Duncan's dismissal hearing turns unpredictable. Read on for more.
On tonight's The Bridge, Marco is made an offer that he initially refuses. Will he agree to go after Fausto?
---