After a somewhat dissatisfying season 7 premiere, The Big Bang Theory followed it up with one of the funniest scenes in the show's history via "The Deception Verification."
To be perfectly honest, when it was initially revealed that Howard's unusual behavior was caused by his exposure to estrogen, I was not amused. The first jokes were focused on overdone stereotypes of women and feminine behavior. For example, "Sex, really? That's your solution for everything."
But I changed my mind soon after because overall the writers got it right and it was hilarious.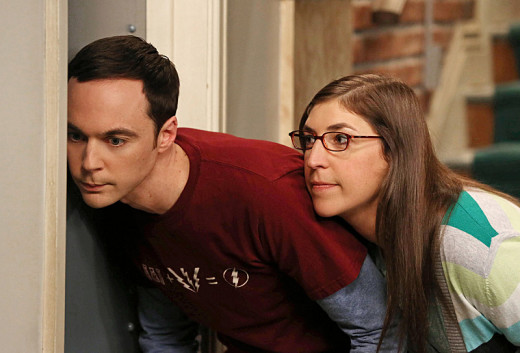 The Howard and Raj scene when he's concerned that he's developed breasts was absolutely hilarious. While getting the quotes down for that scene, I watched it several times and burst out laughing each time. There were so many subtleties that I saw something new on each viewing. Bernadette's reaction when she quietly walked in the two men was hysterical.

Howard: I need you to be honest with me. Do my boobs look bigger to you? | permalink

Raj: Jump up and down -- let's see if they jiggle | permalink

Howard: Hey, easy. My nipples are sensitive. | permalink

Howard: No, I am definitely up a cup size.
Raj: You, know, b-but they're very firm, so you've got that going for you.
Howard: You think?
Raj: Yeah. Yeah. Yeah. Very perky.
Howard: Thank you. I really needed to hear that today. | permalink

The lines don't capture the entirety of the scene. Howard and Raj jiggling and shaking is an image that I will be able to go to anytime I need a laugh. I may have to find gifs to save forever. A few seasons ago a scene like that would have had sexual innuendos and wouldn't have worked as well.

Here it was just two friends helping each other out by comparing and checking out each other's breasts. Yes, I just wrote that. I'm still surprised by how amusing that scene is. I'm not sure how Simon Helberg and Kunal Nayyar were able to remain so serious and keep from cracking up while filming it. 

In comparison, the fight between Sheldon and Leonard didn't compare even though they had their funny moments as well. Though as a Lost Girl fan, I loved when Amy recounted Sheldon's comment about Penny being a succubus. Too bad Penny's not a fan, she would have taken the comment as a compliment.

Penny: He's still mad at Leonard, huh?
Amy: Well, he's mad at you, too. He said you were the succubus that led his friend astray.
Penny: I don't know what succubus is, but it has "suck" in it, so that can't be good. | permalink

Overall, the episode was one of the best. It had funny jokes from beginning to end. Howard and Raj talking about Dr. Octupus, Spider-Man, Freaky Friday, and a Butterball Turkey. And, Sheldon's conviction that Penny was cheating on Leonard because her Chinese food containers were actually in the trash can. And, of course Sheldon reassuring Amy that he knows what a kiss sounds like ... he has watched Star Trek after all. 

And, then the closing joke about the Vagisil coupon. There was no holding back here. A hilarious episode. Loved it!

There were so many funny lines, I wish I could include them all in the review. Check them out in our The Big Bang Theory quotes section for some of the best lines.

Did you laugh uncontrollably like I did? Best Howard-Raj scene, ever? Other than that, what was your favorite joke?

Carla Day is a staff writer for TV Fanatic. Follow her on Twitter and on Google+.

Tags: The Big Bang Theory, Reviews