The Mindy Project Review: Doctor Doeverything
by Chris O'Hara at .
Season 2 of The Mindy Project is underway - and it began in Haiti, as we caught up with Mindy and Casey on their mission abroad. 
"All My Problems Solved Forever" opened with the usual voiceover from its title character, but in very unfamiliar surroundings.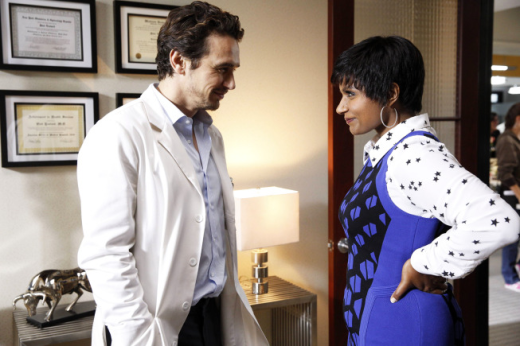 I hadn't expected Mindy to stick it out in Haiti, but there she was, making the most of her daring decision. She seemed happy with Casey, spending her days practicing medicine and making do without television at night by watching the "The Real Houseflies of Port-au-Prince."

Their life together appeared to be cruising along nicely and even gained momentum with Casey's proposal... before Mindy's gallstones became the inevitable bump in the road.

Back in New York, Mindy was reunited with Morgan and a noticeably heavier Jeremy as she came out of surgery. Danny adorably ran to her side as well. It wasn't until she returned to the office that she met her replacement: Dr. Paul Leotard played by James Franco. Franco meshed nicely with the rest of the cast, doing well well not to come on too big, even when comparing his character's sperm to Danny's. He will no doubt bring some hilarity to the show during his stay, but I was glad it wasn't forced on us in just his first appearance.

But Franco's smile is infectious and should prove a great addition to the cast for as long as he remains.

Danny was funny as ever in his obliviousness, as Christina appeared at the office with his laptop to yell at him about his Internet traffic, resulting in this terrific reply:

What's a browser history? | permalink

He and Mindy also shared some familiar banter, as well as a tender conversation on the fire escape.

The decision for Casey to go back to Haiti, while Mindy remains in New York, will most assuredly mark the end of their relationship. Casey's proposal needed some work, but I loved the Bain reference he later made when telling Mindy how she deserved a big wedding. He and Mindy have been cute together, but it is time for her to move on.

Mindy made no secret as to her feelings for Dr. Leotard, but it looked like the office will get too small for the two of them rather quickly. Danny appeared to take Tamra's advice to take the Kobe Bryant route to forgiveness, but will he even be able to convince Christina to come back?

Jeremy, meanwhile, will only take so many fat jokes from Morgan before he decides to get back in shape, which should provide a platform for some funny scenes. It was good to have the gang back, but where do you think they are all headed this season?

Tags: Reviews, The Mindy Project
From Around the Web