Big Jim was an awful person before the Dome came down over Chester's Mill and he became even worse after the town was isolated. Throughout all of it, he held strong that he was acting in the town's best interest and perhaps that was a somewhat valid claim even if his actions weren't legal.
In "Exigent Circumstances," that all changed. Without a doubt, Big Jim proved that he's an evil man who is motivated more by self-preservation than the good for the town. But did anyone really ever doubt that?
He killed Dodee! The innocent and lovely Dodee's only mistake was overhearing evidence of Jim's misdeed.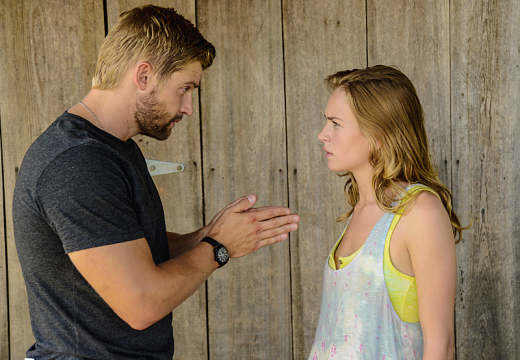 After a season that meandered quite a lot, Under the Dome finally has gotten to a point where everything matters. Whether it's the Dome, the mini-Dome, the Four Hands, Barbie, Julia, Linda, Big Jim, Caroline or even Ben, every move and decision they make matters. One action could mean life or death for someone in town, while also determining whether the Dome remains or disappears.

The episode was the best of the season because it was straight forward and focused on the repercussions of the Dome being there. Plus, there were real life and death situations at play throughout the hour. Still, it wasn't without its problems. 

The main issue I have is with Linda. Come on! After all that she's been through and seen, how can she blindly follow Big Jim? It makes no sense at all. She did question his decision to issue the State of Emergency, but didn't put up a fight at all. And, regarding Barbie, she's witnessed what he's capable of doing, so why doesn't she show any doubt at towards his story? She's weak when she should be empowered and strong.

Maybe now that she's found the egg, she'll start to listen to reason. Perhaps she's the monarch. That would be a twist I'd love to see. She's in the perfect position to play Jim and the townspeople would believe her.

If she's not the monarch, it's probably Barbie or Julia. It's wishful thinking on my part to think it could be Linda anyway. The egg started making that obnoxious noise when Barbie's life was in danger and when Julia woke up. Either of those events could have triggered the egg's reaction.

The powers of the Dome and the egg remain unclear, but it would be helpful if it could show Linda a vision of Jim's killings. That could shift the situation around and put her in the position of power where she belongs. 

Barbie needs to be saved if not for the Dome, then according to the military to do something with the Dome. They said he's the only one that knows what to do. That's a mystery in and of itself and probably one that will be saved for season 2. Though, he'll have to avoid the spontaneous death penalty that Big Jim has in mind first.

With Under the Dome renewed for another season next summer, I fear that few answers will be revealed in the finale. I do hope that at least Barbie's name gets cleared and that Big Jim loses his position of power in town. It would be intriguing to see how Chester's Mill would be if their positions were reversed. 

 What would you like to be answered in the Under the Dome Season 1 finale? Will anyone else die?

Carla Day is a staff writer for TV Fanatic. Follow her on Twitter and on Google+.

Tags: Reviews, Under the Dome