Beauty and the Beast: Jay Ryan on Battling Beasts, Dancing with Cat and More!
by Jim Halterman at . Comments
While the romance between Vincent and Catherine continues to be tested on Beauty and the Beast - by little things such as memory loss and beastly manipulations - watch for the twosome to take to the dance floor tonight.
Yes, Vincent and Cat will dance.
You'll have to tune in for "Liar, Liar," to know the full context of why they trip the light fantastic, but I have a feeling my fellow Beasties will love it no matter what.
I sat down with Jay Ryan last week in New York City to talk about this installment, along with what the changes in Vincent mean this season and how he ends up moving and grooving opposite his love interest. (To hear how Ryan is taking to being a dad in real life, check out my recent Notebook post). Scroll down for excerpts from this exclusive Q&A...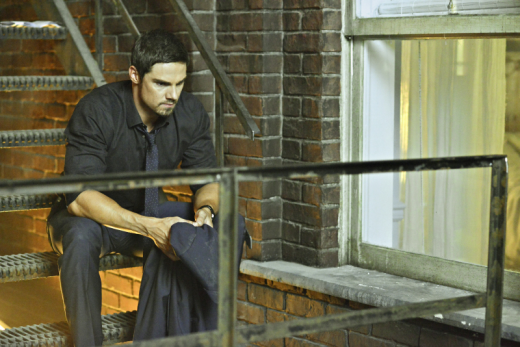 TV Fanatic: The new season is definitely off to a good start with the changes with Vincent.
Jay Ryan: It's given me a lot of stuff to rework the character and free him a little bit from the constraints of where he was. So, this whole reworking, Vincent being rewired by his new makers, it kind of gives him a new purpose, and that purpose is revealed in [last week's episode]. Then his new makers have essentially given him this goal to clean up Muirfield's mess. With that, we introduce a whole lot of new characters, new creatures, and reveal that there are many new beasts in New York City, and at large elsewhere.
TVF: And these are not the same kind of beasts as Vincent or are they similar?
JR: Well, that's the interesting thing, is that they're all very different from Vincent, and they have different purposes. Vincent's beast obviously was created through the military experiment, and these other beasts, there's like stockbrokers that have paid to have these created for them to be their security in a way.
The idea is that they're starting to get out there a little bit more in the public, and it's becoming a bit of a headache for the FBI and for Muirfield. I guess it takes over from our procedural element that we had in season one, and the procedural is still there in a way but it is connected to the characters and to Vincent's missions.
TVF: Vincent's memory is an issue right now. Will he start filling in some of those pieces or does that continue for a while?
JR: He does. Well, he finds Catherine and J.T. very suspicious at first because his world has been very singular. He's a lone ranger at this point so when he's intercepted by Catherine and J.T., he thinks they have a purpose to kind of harm in a way or he realizes that Catherine's a pawn so she could be the enemy.
So, he's very harsh to her in the beginning but she's very determined to make him remember. Eventually, he starts to sniff out some flashbacks and memories and he sort of realizes that maybe she is the key to his humanity to that bigger purpose, that he does have life outside of just being this robotic soldier. So, yes, she starts to make him remember…through physical contact.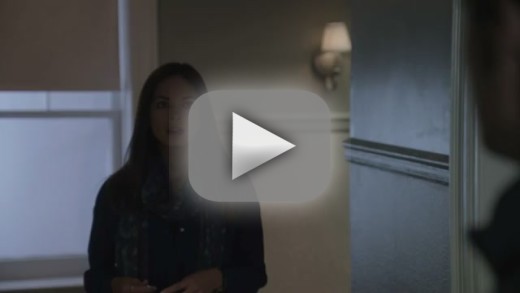 TVF: Will he also start questioning his assignment or his mission?

JR: He does as the memories start to pile on, and he realizes that Catherine and J.T. are out to help him. He starts to question the motives of his boss. This is more like [episodes] three, four, five, six, seven, eight. It's much later into the piece.

At the moment, he's still sort of getting his bearings with Catherine. She frustrates the hell out of him at this point because he knows that the stakes of what he's doing is very high and she just seems to always show up when he's about to intercept these other beasts. So he really does, at this point, still think that she is planted there to play by another company.

TVF: When does Reynolds – Catherine's father, unbeknownst to her or Vincent - figure out that Vincent and Catherine are reconnecting? I am guessing for him that's not going to be a good thing?

JR: It's interesting because Reynolds, I think he's known for a long time, and maybe that's why he's chosen Vincent as the assassin, I guess. There are a lot of beasts and he could have chosen any of them to be in Vincent's position so he has an overall, I guess, purpose for what he's doing and why he's placed Vincent in this position.

TVF: So it might be a benefit that he's close with him?

JR: Yeah, at this point, he controls Vincent a lot. The audience knows this, but Vincent and Catherine are unaware of it at this point. So Reynolds is a very interesting character because he ties Vincent and Catherine together in a way that we haven't seen before.

TVF: What's the story in "Liar, Liar?"

JR: It's funny because Sebastian is played by David De Lautour, who was my best friend growing up in New Zealand. He lives in LA, he's an actor as well but he was cast in the last hour so I got to be on set with my best man from back home which is funny. It wasn't good for my accent though. We were sucked back to in kiwi tour. [laughs]

But Sebastian is interesting because he was an ex-soldier, too, but for this kind of creature that he plays, he has a magic ability so it's something that kind of throws Vincent off his game. He's unaware of how to tackle this, how to play him at his own game so we see a bit more vulnerability and weakness in Vincent in terms of his beast powers and abilities. I think it's the first time that Vincent takes a step back and realizes that Catherine actually can have the upper hand at working with them and helping them.

TVF: And tell me about this dance in this episode…

JR: Vincent and Catherine are kind of unexpectedly caught in the middle of a dance for a Tango while they try and work out this case. We kind of played it like it was in honor of [the Brad Pitt/Angelina Jolie movie] Mr. and Mrs. Smith.

TVF: What was your reaction when you found out there's not going to be a scar anymore? 

JR: Praise the Lord! [laughs] The scar was great in season one, especially because it was all the brouhaha [in the press] that he's not beastly enough…but this scar was symbolic in season one of the beast within trying to get out and gave him a little bit of an edge, but with all the makeup and the ferocity of shooting this TV series, we still had time to put it on, take it off, turn into beast so Brad Kern [the show's new showrunner], a very wise man, he said let's get rid of it, and we'll write in.

TVF: Who else has Vincent mixing it up with? Are there a lot of scenes with J.T. or is a lot of it more with Cat?

JR: It's funny because I had seen the first five or six episodes, and I felt like I was going to work every day and working with a new actor or actors every day which was cool really, but it was kind of a culture shock because I was so used to just working with Kristin or Austin [Basis, JT] or Nina [Lisandrello, Tess] or Sendhil [Ramamurthy, Gabe]. So it brings out all these different aspects of Vincent's character, but as I said, he is a bit of a lone ranger and intercepts new characters in the very beginning, but as he regains his memory, the old team falls back together.

Beauty and the Beast Season 2 airs Mondays at 9 p.m. on the CW. 

Jim Halterman is the West Coast Editor of TV Fanatic and the owner of JimHalterman.com. Follow him on Twitter.

Tags: Exclusives, Interviews, Spoilers, Beauty and the Beast