The Carrie Diaries Review: Escape to New York
by Leigh Raines at .
It's a summer love-fest with Manhattan in the The Carrie Diaries season 2 premiere!
In "Win Some, Lose Some" we join up with Carrie and Walt who are still living in Larissa's luxurious apartment. So are they missing life in Castlebury? Not so much!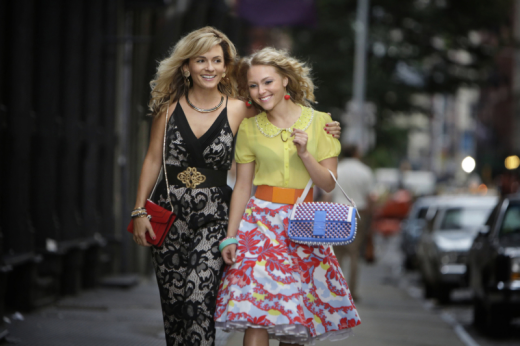 After The Carrie Diaries season 1 finale - when Walt's ex girlfriend Maggie imploded, outed Walt, and hooked up with Carrie's on/off boyfriend - Carrie and Walt needed a major escape. With Carrie's hot job at the magazine providing access to the hottest clubs and guys, the two have a perfect distraction from their life in suburbia.

Walt still isn't 18, so Bennet is holding back. As for his reputation back home, Donna has assured him that she is spreading rumors of their hot lovin' until he's ready to open up about his sexuality. As Carrie confirms, everything Donna says in Castlebury is gospel. It's interesting that the once villain of Castlebury high is now protecting Walt and even sort of siding with Carrie when she runs into Maggie at the country club. Donna's certainly not letting Maggie forget about her fling with Sebastian. Sebastian on the other hand is desperate to forget and doesn't even want to be seen speaking to Maggie.

You think Sebastian's still stuck on Carrie? You betcha! Well, luckily for our entertainment, Donna isn't completely reformed and decides it's totally fine to bring Sebastian to Carrie and Walt's apartment. Carrie quickly bolts to another club, loses her purse, chaos ensues. Along the way between club hopping and trying to find each other (remember life before a simple text would fix all that?) Carrie meets Donna's cousin, a young Samantha Jones. 

Young Samantha, much like Kim Cattrall's version that many of us know and love, is no-BS, straight to the point and fun as ever. She tells Carrie to quit the bellyaching over the stolen purse. After helping Carrie break back into her apartment, Samantha decides that maybe "Bambi" could use a little fun and tells her she needs a new guy to get over Sebastian. The problem is, Carrie's still in love with him and just not ready.

They part ways on good terms and despite their opposite personalities, you can tell the two girls feel some sort of magnetism towards each other. Maybe Carrie needs an older, wilder friend to bring her out of her shell. Maybe Samantha needs a grounded girl like Carrie to really be there for her. Now that Sam's moving in with Carrie and Walt, only time will tell!

Back in Castlebury, Maggie is working at the country club in order to pay for college and Mouse is not pleased about running into her. Their exchange at the Fourth of July celebration actually kind of made me laugh:

Mouse: We know what we want, chicken fingers.
Maggie: Is that seriously all you're gonna say to me?
Mouse: With honey mustard!!! | permalink

Nothing quite like fighting with someone you love and knowing you can't stay mad for too long! I'm glad to see Mouse is in a good place, and despite what Maggie did she doesn't deserve to be punished forever. People make mistakes.

Lastly we have Dorrit being Dorrit. Things are great with Miller until he decides to introduce himself to her father without her knowing. Despite how much Dorrit may love Miller, she definitely doesn't like being blindsided.

Do you think that move was a deal-breaker for them? Was Mouse right to forgive Maggie? Should Carrie forgive Sebastian? And what did you think of Samantha?!


Leigh Raines is a TV Fanatic Staff Writer. Follow her on Twitter.

Tags: The Carrie Diaries, Reviews
From Around the Web