Two contrasting personalities were at play on The Mindy Project this week.
Where Mindy tries to bring out the more sentimental side of her male coworkers, Peter has appealed to their baser interests. The former would love for the office to resemble the setting of one her her favorite RomComs, but as " Bros Club for Dudes" kicked off, the guys were running around more like Lost Boys from Peter Pan.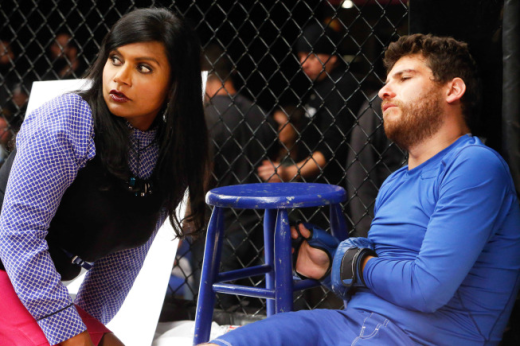 I, for one, am loving the new energy Peter has infused into the group. The opening scene where they were all playing Nerf assassins and Peter held Mindy at toy gunpoint was great.
Peter: I will kill this old lady.
Mindy: Excuse me?!
Peter: She's pushing 55 and that's a terrible day to die. | permalink
Then Morgan took the scene to a whole new level of funny when he emerged from the corner camouflaged in the office plant. Morgan continued his covert ways as he tried to make a move on Tamra while she was upset with her inattentive boyfriend Ray Ron. Rounding out his night of solid scenes was his mistaking UFC President Dana White for Howie Mandel.
Dana White was a good sport in his brief cameo, as was Kendra Wilkinson, who played Mindy's former patient now working as a ring girl.
When Mindy couldn't make sense of Peter's attitude toward her, she went to her usual advice-giver on matters of the office. Danny's advice to take Peter to lunch in order to find some common ground failed miserably, but it did provide one of the funnier moments of the episode as they sat there at the USA Girl Café
Peter: The holes on the tea cups don't fit my fat fingers! | permalink
Peter is not all frat and no heart, though, as he was rendered defenseless after Mindy broke the news about his ex-girlfriend's new engagement.

But after she climbed in the ring and fired him back up, he showed he could throw a decent punch before ultimately getting tossed from the squared circle entirely. Morgan also gave a pep talk of his own to an embittered Ray Ron in a pretty comical fight scene of their own.

Despite being called out by Jason for a double dribble on their date night, Mindy closed out the episode with the nice gesture of installing a basketball hoop for the guys in lieu of the gazebo. Not exactly sure what they will do when the ball invariably goes off the roof after a few shots, but it was cool of Mindy all the same.

With Jason gone, will this open the door for the loveable lawyer Cliff? And when are Mindy and the others going to finally crack down on Jeremy about his weight?  

Tags: Reviews, The Mindy Project