At the start of this week's episode, we found Mindy still reeling from her breakup with Casey.
It wasn't long before we met Cliff Gilbert, an attractive lawyer with an online shopping problem. Despite their contentious first encounter, you got the feeling we will see the two involved at some point.
In the meantime, Mindy still had to find a way to deal with her grief. Danny would have been the obvious choice to come to her aid, but "Magic Morgan" took an interesting turn when Morgan knocked on her door.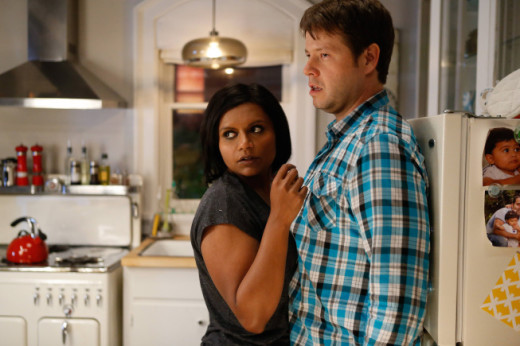 I'm not sure there is enough wine in Manhattan to make Mindy's judgement so impaired that she would try to sleep with Morgan. Although you can't blame her for being intrigued after hearing about Morgan's most recent breakup and his uncanny track record with woman. 
Morgan: Do you remember my ex girlfriend Vicky?
Mindy: No.
Morgan: Ok, well anyway, she just got engaged to an engineer and not the choo-choo kind, the rich kind. | permalink
Mindy ended up coming to her senses and avoided what she would have surely regretted as a bad decision. Meanwhile, back at the office, Danny was questioning Jeremy's decision to hire Peter Prentice. Peter once again showed his knack for talking to patients, but after he inappropriately touched Danny while telling a story, Danny had seen enough.

Thankfully, Peter's termination lasted mere moments because watching Danny and Jeremy treat him like a fraternity pledge is going to make for some hilarious scenes in coming weeks. 

Morgan threatening to sue Mindy for sexual harassment was a bit unbelievable, but it did give Cliff and Mindy another face to face. It also was the impetus for Morgan and Mindy to go on a date, where amid his usual farcical antics, he showed Mindy a different side. His taking her to that quarry to scream out her issues proved to be very therapeutic. 

Too bad the end of that scene and the following one - where Cliff caught the elevator up with Mindy and Morgan - were marred by some horrendous voice overs. All in all, though, a solid rebound episode for Mindy and crew.

Tags: The Mindy Project, Reviews
Want more The Mindy Project?
Sign up for our daily newsletter and receive the latest tv news delivered to your inbox for free!
More From TV Fanatic
Join us for the One Tree Hill Rewatch of Season 1 Episode 4! Ready to relive the fun drama?
Power struggles ensue all around Chester's Mill on Under the Dome. Lives will be put on the line.
Scott decides to get tough on Teen Wolf after rescuing his Beta by declaring he won't sit back and watch more deaths. Find out what else went down in the review!
Heather and Tamra consider making peace with Shannon on The Real Housewives of Orange County. See what went down in our TV Fanatic review!
---