We saw The Other Side. We witnessed Jeremy tussle with Silas. And we met Dr. Wes Maxfield.
Can we trust him? What about that Jesse guy? And what's the deal with these Travels?!? TV Fanatic staff members Matt Richenthal, Miranda Wicker and Leigh Raines are here to debate these questions and many more in the latest edition of The Vampire Diaries Round Table, "True Lies" edition. Gather around!
-------------------------------------------
What was your favorite scene from the episode?
Matt: Gotta be Caroline walking in on Damon and Elena during their misguided Fifty Shades of Grey impressions and making it clear: they need to make some rules for when boyfriends visit.
Miranda: It's a toss-up between the Jeremy and Silas' scene and Katherine versus the sinus infection. Jer's kind of a bad ass now that he's a hunter. He works out, you guys! Katherine's line about being defeated by a sinus infection after running from an immortal hybrid for 1,000 years elicited a chuckle. Poor Kat!
Leigh: Damon's line to Elena about the moody professor and, like, haven't you learned anything from dating a serial killer?!? It made me chuckle.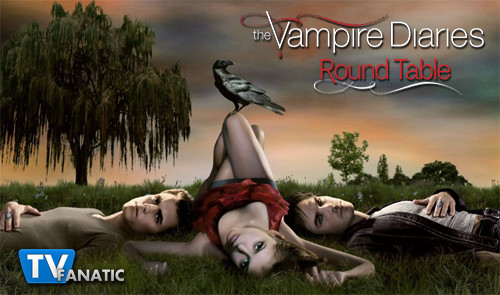 Do you trust Jesse?
Matt: No. I understand he wants Caroline to be Jesse's girl. He wants to make her his and he's been watching her with that body, I just know it. But dude is shadier than Mystic Falls during that Season 1 eclipse. Caroline can do better.
Miranda: I said it on Twitter and I'll say it again. Never trust the cute guy who asks for your help with the wood. Err. So... No. No, I don't.
Leigh: If we are still trusting sexy new strangers on The Vampire Diaries 5, then we have learned nothing in our years in Mystic Falls!
Should Jeremy reveal the truth about Bonnie to her friends?
Matt: I say no, actually. It's sort of selfless for Bonnie to keep this secret, isn't it? Of course it will need to come out eventually. But Jeremy should respect Bonnie's wishes and delay the pain and suffering her death will cause her friends for as long as possible. They have too many immortal bad guys and mean professors to worry about now anyway. It's not the right time.
Miranda: Yes! This isn't a secret that can be kept for long. It'll be kind of obvious when she doesn't come home for her father's funeral that something's up. The fact that NO ONE seems to be able to get in touch with her besides Jeremy, the ghost whisperer, should be setting off somebody's warning bells by now.
Leigh: I think Jer needs to respect that Bonnie's not ready, but it's also a really tough position. Her friends have to realize something's up. Her scenes with Matt made me sad.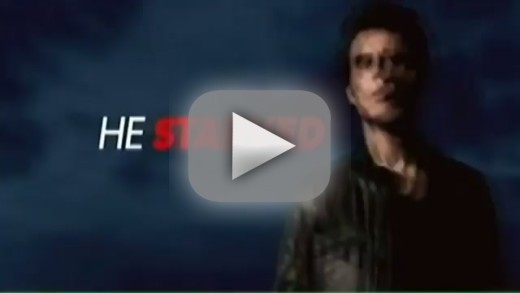 More intriguing development: the role of Dr. Maxfield, the Travelers or Stefan as the Ripper?
Matt: We've seen Stefan as the Ripper and we already have Paul Wesley playing a bad guy. We also already had an evil professor on The Vampire Diaries Season 4. But the Travelers are new! Totally random and mysterious and I don't know anything about them... but new!

Miranda: I want so badly to say Stefan as the Ripper but that will essentially mean Paul Wesley is playing TWO evil characters and it means Elena will be the key to flipping his humanity switch back on, which means Delena's time is numbered. Which is stupid. The Travelers feel a little too Angelus for me. That leaves Dr. Maxfield by default.

Leigh: Dr. Maxfield. There's so much we don't know about the Gilbert parents.

What was the most difficult course you ever took in college?
Matt: I got a C+ in Intro to Oceanography. Don't ask.

Miranda: We were supposed to go to class? (Serious answer: Statistics. I have red marbles and I have green marbles and probability and who cares! I have marbles!)

Leigh: OMG, Miranda me too!!! Statistics was mandatory and I was a journalism major. Had to take that crap TWICE. I also had a tough time in reporting because you're not supposed to editorialize and put your opinion in things. Oops!

Tags: The Vampire Diaries, Round Tables
Want more The Vampire Diaries?
Sign up for our daily newsletter and receive the latest tv news delivered to your inbox for free!
More From TV Fanatic
Gather around, True Blood Fanatics. Let's discuss "Karma" via the TV Fanatic Round Table.
We talked to the cast of The Vampire Diaries at Comic-Con. Ready for some Season 6 scoop?
Our Suits Round Table team gets "Litt the Hell Up" as they debate mixed signals, telling the truth and favorite moments from last week's episode. Ready to join in the fun?
Our Days of Our Lives round table teams up with MyHourglass to debate if Will took his tirade against Sami too far and whether Abigail has suffered enough after this week's Days of Our Lives.
---