Willie Garson Teases "Big Deal" of a White Collar Reveal: What is Mozzie's Name?
by Jim Halterman at . Comments
White Collar may be in its fifth season, but that doesn't mean the USA Network hit has any plans of slowing down.
As we found out from Tim DeKay last week, there's much in store for Neal and Peter in the weeks ahead, including tonight's emergence of Neal's new handler, played by Warren Kole (The Following).
But let's not forget Mozzie. Always alongside Neal in whatever caper they're trying to pull off, this week we find out even more about Mozzie – like his real name!
As Willie Garson told me when we sat down recently in New York City, "it's a big deal." We also talked about whether he hears more shouts of Mozzie from fans or Stanford (his role on the Sex and The City) and how he feels about the show now being on Thursday nights...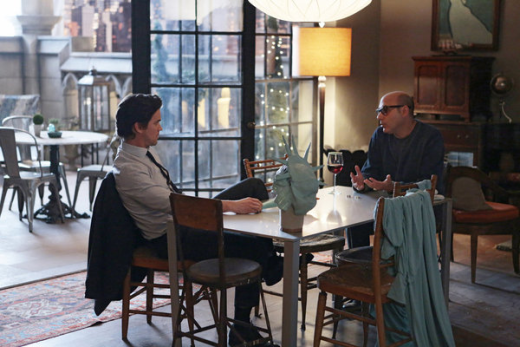 TV Fanatic: In the course of the series, they don't seem to mix up Neal and Mozzie's relationship too much. You guys are pretty much always on the same page. Some disagreements but never something that would end things.

Willie Garson: Yes. It's very interesting that you say that because, at the end of this season, there is a lot of talk about [that]…this is an impenetrable relationship. Maybe it'll come out why at some point. It never really has, but it's like this relationship is not going anywhere, ever. We played with it in the second season, there were times where 'so, this is really goodbye?' but it's kind of a bullshit TV device because, we know that he's not leaving the show and we know that I'm not leaving the show. So it's like, 'Okay, well that's a lie.'

TVF: Let's talk about what's coming this season…

WG: The overriding thing of the season is that we're under the gun. Neal and Mozzie are under the gun of someone else (Curtis Hagen, played by Mark Sheppard), which makes us very uncomfortable. It's not something we're used to. We're used to calling the shots and putting all the crime stuff in motion and now someone is basically blackmailing us.

So, there's been a lot of that and then a lot of information comes out. The FBI finds out who I really am. My real name. It's a big deal. Mozzie has some talents that maybe show themselves, midwifery…

TVF: Does Mozzie have stories with any of those other characters that you don't always have scenes with, whether it's Tiffani or Marsha?

WG: I have big stuff with Marsha this year. [Editor's Note: Watch tonight's episode to see exactly what he means]

TVF: I've always loved that outside of Neal, Mozzie is still uncomfortable with Peter and the other 'suits.' It's not like they've become besties over the years.

WG: There becomes an issue this year because, in episode two, where they find out his identity and it's like, 'Wow, I'm on the radar of the man now. That's a scary thing.'

I will say this, it's never really spoken on the show, it's just coming to me now, Mozzie has kind of figured out that they're not out to get him. Mozzie and Neal…we're not evil. We're not evil criminals. For us, it's always been the thrill of the chase, the thrill of the hunt, the excitement of the life. That's the exciting part.

TVF: In last week's season premiere, Mozzie was up on a roof so I was curious if you were really on a roof or was it green screen? Were you safe?

WG: Well, here's the thing. I was on the roof and I was safe, but it was still horrifying. It was the most horrifying thing I've ever done. I'm afraid of heights. I had read [the script] and I thought…we did one before with Matt jumping off a building with a parachute but it was all green screen.

So, I just assumed when I read it [but] then Jeff King [director] calls me and says, 'Are you, by chance, afraid of heights at all?' I said, 'Yes, I am.' He said, 'Oh. Okay.' But that didn't change anything. Me saying that…I was up there for a long time.

TVF: You guys on the show have been together a long time now. I'm guessing it is kind of a well oiled machine…

WG: It is a well-oiled machine. Most of the show is a three hander. It's mostly me and Tim and Matt and then the others are fantastic. We never want to be like, 'Oh this scene is like that scene that we did that time…' It's always about keeping it fresh. I know people who've been on shows for ten or 15 years, and it's like, 'Oh, this is like that. This is one of those scenes. This is a simple walk and talk." We never do it. We never do it.

I don't want to sound as pretentious as it is, but I think it's the theater background of the three of us. That certainly makes it, 'How do you make it fresh every day?' It's also because the stories are fresh. Our show is never buried under the mythology of the show. It's a new caper every week. Much like you could keep Columbo fresh every week because there was a new villain and a new story is going on. It's all new every week.

We used to joke, at the end of season one, 'Oh my God, if I have one more scene where I'm talking about this music box I'm going to kill myself. Enough with the music box, no one cares about the music box, people who are watching the show now don't even know what the music box is, that's why we only have four lines about it, who cares about the music box.'

They made a concerted effort, by the way, with a lot of pressure from us to keep the episodes so that you can jump onto the show. This is my grand statement about writers…every writer wants to make their show a legacy show, a Breaking Bad, Sons of Anarchy, where you follow the whole thing. I know, because I'm so old, and I've been doing this for so long that I like a show to live forever. I like someone to be able to, in season six, to jump on and get new eyeballs on the show.

TVF: Are you hearing 'Mozzie!' shouted at you when you're traveling around?

WG: It's about 50/50 from Sex in the City now, which is good. Sex in the City is a large hurdle to get over. I'd say it's 50/50 now, which is great. It's very satisfying. You want to feel that your work is current and that you're not…I imagine there came a point when Kelsey didn't want people screaming Frasier Crane at him after, 75 years playing the same character.

So, it's nice to feel that you're doing something that has value and people really dig, people really respond to our show. While we've been on, in the past five years, is when we've really noticed the amount of noise on television. It's really…this has been the time…So, for a show to cut through and resonate with people, and survive, is a real testament to the show.

TVF: Lastly, you're on Thursday nights now...

WG: I do have to say that I think that USA did us a solid. I'm excited about the new night. I feel that Burn Notice did very well there. Suits was on a Thursday…I think they did us a real solid by moving us to nine o'clock. It seems like not that big of a deal, but a large part of our audience is 13 to 18-years-old and I think the ten o'clock was not our friend…I think the nine o'clock [hour] is really our friend. I think it helps. You can watch it with your kids but you don't feel like you're watching some dumb-ass kid show and the kids feel like they're watching a grown up show so they feel cool too. I think that's helpful to us.

White Collar Season 5 airs Thursdays at 9 p.m. on USA.

Jim Halterman is the West Coast Editor of TV Fanatic and the owner of JimHalterman.com. Follow him on Twitter.

Tags: White Collar, Exclusives, Interviews, Spoilers