Thank you, Drop Dead Diva writers, because that is how you do a season finale!
On Drop Dead Diva Season 5 Episode 13, Jane's mother Elaine came back to town with bad news.
She also revealed that she's known Jane's secret this whole time.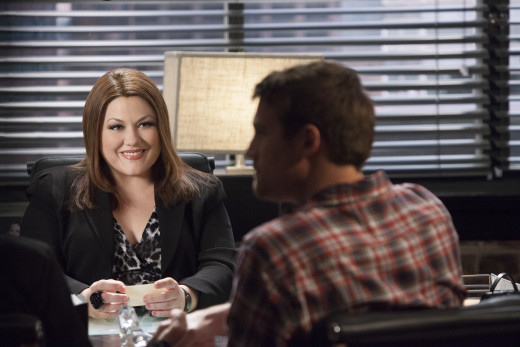 People have wondered over the course of the series how Jane's friends and family wouldn't automatically realize that Jane was completely different. Clearly, getting shot can change a person, but wouldn't those closest to her notice that she was basically an entirely new person?
Apparently her mother did. It's unfortunate that it took until Elaine's last dying words to let Jane know that she knew her secret and she was okay with it. That was such an emotional and touching scene. I'll let Elaine's words speak for themselves.
You're not my daughter, ever since you were shot. I never read Alice in Wonderland to you. A mother knows her child. You're not the same Janey, but you're still my Janey. And in ways I never imagined, I love you. Whoever you are.

Elaine [to Jane]
Rest in peace to a lovely woman with a fierce and independent spirit, a spirit that Grayson recognized in Jane as well, even though she and Elaine weren't truly biologically related. It goes to show that environment and the people one surrounds him or herself with can really shape a person.

Elaine may not have been her true mother, but she had an impact on her life. I just felt bad that Brittney didn't get a chance to say goodbye.

Speaking of Brittney, her timing sucks. We finally got our big Jane and Grayson kiss only for it to be interrupted! But c'mon, did you expect anything else? The finale had to end on a cliffhanger note. Now we have all of Drop Dead Diva season 6 to explore Jane and Grayson's relationship!

Elsewhere this week, Stacy and Owen are starting to grow on me. Teri was hilarious hitting on the Amish man and Jane's case was very Erin Brockovich. I think in an episode where emotions weren't so heightened, I would've been able to focus on the cases more. 

What did you all think of the Drop Dead Diva season 5 finale? Was it everything you hoped for?

Leigh Raines is a TV Fanatic Staff Writer. Follow her on Twitter.

Tags: Drop Dead Diva, Reviews