If Jay Leno hadn't invited George W. Bush onto his program earlier this week, I would think that NBC just didn't want to talk about politics anymore.
First, Leslie Knope lost the recall election on Parks and Recreation and now Kristina lost her bid for mayor on Parenthood Season 5 Episode 9.
Kristina still won so much through her campaign, especially the love and respect of her family, friends and the community of Berkeley.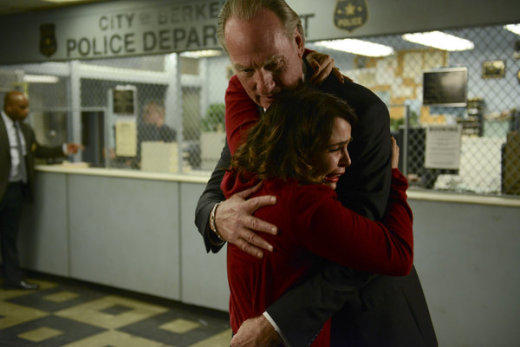 I have a feeling that Kristina will become involved with local government in some way, perhaps as a community organizer in a nod the Barack Obama. They talked a lot about his election and how important it was to the country and following in his footsteps to get a better hold on the process before she decides to run again would help. 
Kristina has already made a difference, as we witnessed after her concession speech when the mom who was at her debate introduced her daughter. Her life has already been changed for the better by what Kristina was able to do for her, and if someone is that dedicated to education, it would be a shame to waste her vast breadth of knowledge. 
What's so interesting about Kristina is that she never gives up, and she won't give up now. I anxiously await her next move.
While Joel and Julia seemed, on the outside, to be a united front when taking Victor to his first day back in the fourth grade, it was in appearance only. Victor was ridiculed and did not take his day well. Julia didn't reach out to Ed (as I expected), but to her husband. He wasn't there.
The only person he said he would be there for was Victor, and he wasn't. He worked late on what was one of the biggest, most life altering days in Victor's life. No argument that he made changed that fact. A fact he was completely incapable of seeing.
Julia hunted Joel down and found him eating sushi while looking over the blueprints with Peet. It was a rather casual meeting. They were chatting about the eel. He refused to hear Julia out and pushed her out the door. He then chose to have a serious discussion with her at Kristina's campaign headquarters. Because that is a great time to have a serious family discussion.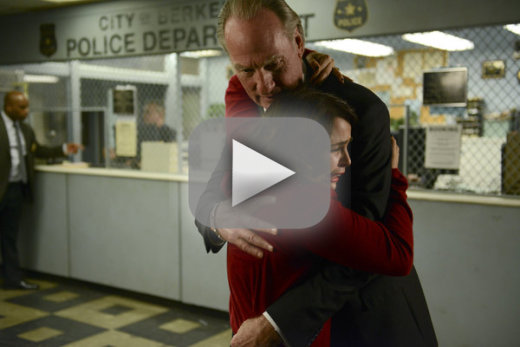 Joel had the audacity to compare his contractor position with the employee/employer relationship Julia was in at the law firm. This is yet another indication that he has no idea how the business world works. Telling Julia that her behavior could have cost him his job was ludicrous. His whining was embarrassing. Hit the Parenthood quotes to see exactly what he said. He is his own boss. He does not report to Peet, he works with her on a project. She has hired his firm to produce a result. He has no comprehension of contractor boundaries. 

What the series has done with Joel is as close to character assassination as I've seen. He's not even likeable anymore. Julia has some serious flaws, but Joel has managed to outrun her in what was once a race she was winning handily. I'm trying to think of a scenario in which he could make things right, and I can't think of one.

Which leads me to Amber and Ryan. The two of them are a mess. Their magic is gone. Their scenes together are wrought with tension and I find myself pulling back, waiting for the first blow. Not necessarily a physical one, but even a verbal onslaught is always just moments away when they are together. Their relationship has officially fallen off the adorable side.

Amber and Ryan now tiptoe around each other, speak in whispers and halted sentences, afraid to say the wrong thing - the thing that might set the other off. Especially Amber. She is frightened of Ryan. There is no way around it. She is a young woman in fear of the man she loves. Which makes me wonder if she really loves him at all.

Amber could have fallen in love as a way to ensure Ryan's happiness. A codependent relationship does that. She thinks Ryan needs her to be happy, and she complies because it makes her happy to make him happy. She's not happy. 

He's insanely jealous. I don't want to hear anyone make excuses that Amber shouldn't have been singing with a band, or should not have celebrated with them afterward. Her mistake was not calling to tell Ryan, but that happens. Those are things a young person does. The expectation is that anyone can do that and have fun. There is not an expectation that your boyfriend will come in and start throwing punches without provocation. 

So Amber was right to be afraid, because Ryan was a ticking time bomb. He has been bottling things up and pretending to be fine. It will only be a matter of time before there isn't someone else in the room for him to hit, and Amber is on the other end of his fist. I don't want their relationship to continue. I want to see Amber happy to be Amber again, not to be happy because Ryan is happy.

I can't even imagine Sarah's reaction when she learns what happened. Thank goodness Zeek was there for Amber. Thank goodness he'll be there for Sarah. 

Those were the big stories of the week, and they overshadowed everything else that happened. We had one inspirational story and two downright depressing ones. One out of three isn't bad. What did you think about these major developments?

Carissa Pavlica is the managing editor and staff writer for TV Fanatic. Follow her on Twitter and on Google+.

Tags: Parenthood, Reviews