Is Carl about to find love on tonight's Mike & Molly?
Well, not exactly.
On the installment, Molly (Melissa McCarthy) - who quit her job in last week's season premiere to embark on a lifelong dream to write a novel - goes on a ride along with husband Mike (Billy Gardell) and partner Carl with, of course, hilarious results.
But, as Reno Wilson told me last week, during the course of the ride along we also find that Carl has a not-so-secret admirer in the form of a cross dresser named Lousette. Read on for Wilson's take on Carl's romantic life and whether the Chicago cop, like Molly, has dreams of his own he'll want to fulfill soon...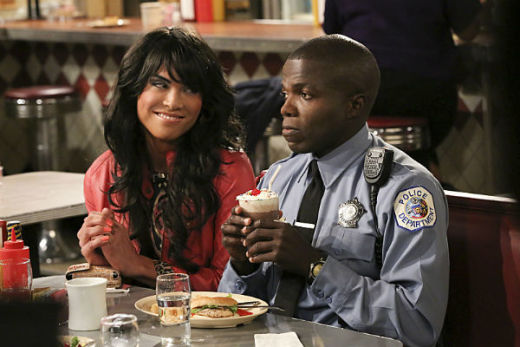 TV Fanatic: How does Carl feel about the fact that Molly is going to come along for a ride-along in this week's episode?
Reno Wilson: Listen, it's a bad idea, let's be honest. We know it's a bad idea. The squad car is Mike and Carl's mobile office, their man cave. They break down all their feelings and thoughts there. As expected, Mike isn't comfortable with that but I think Carl knows he might get a chapter in the new book that she's writing. He's fine with the idea until [laughs] things start to go awry and then he realizes this is a bad idea.
TVF: In one scene [which you can see in the clip below] Carl tries to tell Mike about their relationship as partners but I'm guessing cops do get close to each other, right?
RW: I run into so many cops in LA, when in Chicago and they go, 'Hey, hey! Me and my partner are just like that!' 'Hey, Hey! My partner's a big guy like that!' 'One of us is black and one of us is not.' I think it really resonates. And Billy and I have known each other for about nine years. We played partners before (in the short-lived NBC series Heist), so the relationship that you see on screen, that's what we'd be doing if the cameras weren't rolling. We'd be busting each other's balls or hanging out with each other.
But that rarely happens. When do you get the opportunity to be on a show and then the show be a hit show with one of your best friends? That's so rare.
TVF: We also see that Carl also has an admirer named Lousette, who he may have had a date with at one time.
RW: Listen, we all know that Carl is a freak. It was New Year's Eve. He probably had a couple [of drinks] in him. He realized before he went the whole deal, he realized what was going on but Chicago is a small town and sometimes those moments come back to bite you and it's all well and good.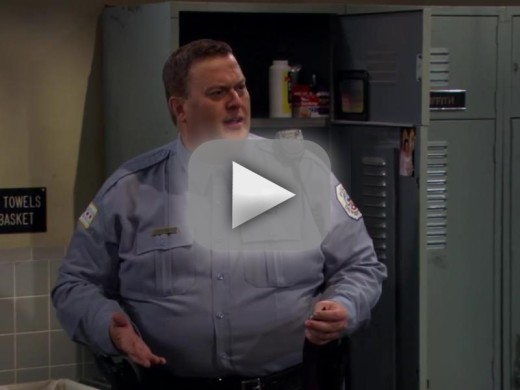 TVF: Do you think Carl is good for a relationship or is he not quite there yet?

RW: I think Carl would be great in a relationship but let's be honest, as far as Carl's love life, when things go poorly everything is funnier. I don't know the kind of woman that would be right for him.

TVF: Maybe it would be Lousette? Maybe we'll see her again?

RW: Maybe Lousette? Who knows? I think Carl would be resistant to it but anything is possible if it's funny.

TVF: This new season is a lot about Molly finding her niche with what she wants to do with her life. Does Carl have dreams he has yet to go after or is being a cop his end all, be all?

RW: Oh, no, no. Carl wants to be so many things. That's a great question and we actually answer that question [in next week's episode]. He talked about that. His end all isn't to be a cop. Mike's always wanted to be a cop since he was a kid because his Dad was a cop but that wasn't Carl's dream at all. Carl had loftier aspirations and I think we'll see a little bit of that.

TVF: Talk to me just about comedy because I know the show sometimes crosses the line and we're in these politically correct times where some people get offended so easily…

RW: …right, right, you don't know what you can say!

TVF: Do you have to deal with that on the show or in some of your own work?

RW: I'm an actor, I don't do standup or anything like that, but I have noticed in social media and the internet that in general you can't please everyone, especially in this age of digital courage and people will say something about anything. I call it digital courage. They have the protection of anonymity of the internet but with everything about Mike and Molly, the only person who can make fun of Mike is Carl but that comes from love but if anybody else starts getting on him then it's going to be a problem.

In that first episode [of season four], we see Molly punches that woman out at the bar. There's love between all of us. With all the jokes that we have on the show, Mike and Molly have a gooey, soft center. At some point, there's a real human quality to the show, a real connection among these people and at one point in every episode, for me, I get misty eyed. It comes down to somebody trying to figure out who they are or somebody trying to do better or somebody trying to move forward, just regular things that people deal with and I think that's what makes people connect with the show.

TVF: You also do a lot of voice work and I was curious if people assume that that's easy. What do you think?

RW: The only thing easy about doing voice overs is getting inside the booth. You don't have to go in dressed, you don't have to be camera ready. It's a small world and I've been really lucky to be in the fringes of that voice over world. I know some of the biggest voice over artists out there and those cats are amazing. To watch someone like Tom Kenny, I've watched Tom Kenny have a conversation with four people and it was just him! Or Phil Lamar…all these guys are giants so I'm happy. I love voices and I grew up watching a lot of cartoons and I sing so it kind of fits that I'm in that world. I want to continue doing that and do a lot more of that. It's a good job to get if you can.

TVF: Anything else you're working on?

RW: As always, I'm staying super fit because I want to play The Black Panther, the Marvel Superhero. If you go to my Twitter, you'll see the picture I have and it's this pose that feels like The Black Panther to me! I want to be The Black Panther!

Mike & Molly airs Mondays at 9/8c on CBS. 

Jim Halterman is the West Coast Editor of TV Fanatic and the owner of JimHalterman.com. Follow him on Twitter.

Tags: Mike & Molly, Interviews, Reno Wilson, Exclusives