Mike & Molly Episode Guide
The entire family wonders if Victoria's new man will be a keeper on Mike & Molly.
Molly encourages her friends to let Vince do their hair, until he does hers on Mike & Molly.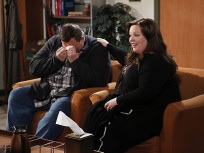 Mike & Molly head to therapy to work on their issues in "Mind Over Molly"
It's time to salsa on Mike & Molly! The couple takes a class this week.
When things go badly between Peggy and Patrick, Mike and Molly end up in the middle.
Molly is oblivious when another teacher hits on her while Mike gets involved in a money making scheme on Mike & Molly.
When Molly heads out of town for a teacher's conference, Mike backslides and turns to food for solace on Mike & Molly.
Mike tries to convince everyone that there is nothing wrong with his vision on Mike & Molly.
Mike's hopes for his birthday are dashed when planning his party drives a further wedge between his wife and his mother on Mike & Molly.
Molly heads off on a Spring Break vacation with Victoria and her friends while Mike tries to get more overtime out of the Captain on Mike & Molly.