Jenna's 2013 apology tour continued on Awkward Season 3 Episode 18 and things began to get back to normal in the process.
Except in one area: Valerie.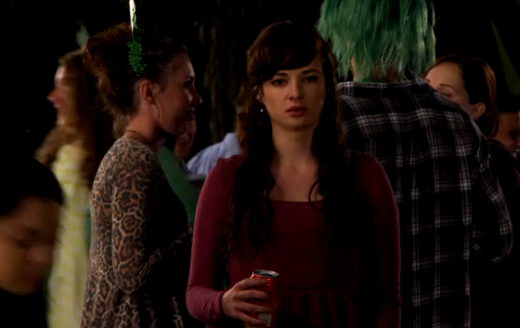 I've never really given Valerie much credit as a completely developed character. She's mostly been wildly inappropriate for Jenna in the advice she gives; an off and on gal pal for Lacey; and always ready to throw her wild inappropriateness into something crazy for comic relief.
Yet Jenna's arc of redemption is also a chance to really begin giving Val some depth, and has done so in a way that does not change the core of Valerie (or so we hope). Valerie, the unique person she is, gives nutty advice, that's her thing, but that advice gives Jenna an opportunity to examine her state and know for sure what not to do. Valerie is very much a sounding board for Jenna, and she's an incredibly safe space.
Valerie's craziness is how she relates to the students, not just Jenna, and it's a good reason why most of the students respond to her. They all think she's crazy, but none of them can say she does not take an active interest in their lives. Valerie is even willing to don a fake mustache and coast her Chevy in the parking lot if it means she can even help one student.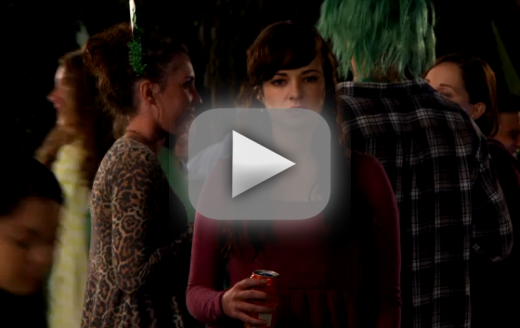 Valerie's call to Jenna at the end sets a somber tone and ending to Jenna's apology tour. As much as Jenna is working to make amends: one of her actions is proving difficult to apologize for. Valerie's firing is the vestigial remnant of bad Jenna, and it's a stain that might never completely clean up like Matty's house.

It's one of the few moments that Valerie is fully developed as a character. Not only does she make it perfectly clear who the adult and minor are, but the phone call also pulls Valerie out of the element she is best in: the school.  She's very much required to respond factually, but it's clear from the brief and cold message that Jenna's actions are not all going to be one quick apology back to normalcy.

When Hunter mentions "Unraveled" again, it's probably best to take notice. Mr. Heart, much like Jenna, responds to writing, and he knows that what's in the book will help set Jenna on a path for the better. He recognizes something in Jenna much like he did with Jenna, so, while the book may not help bring Valerie back, it's probably a good starting point for Jenna.

For the most part, this installment is just about Jenna integrating herself back into the mix of things. She wants to get back what she had before Collin, and, as much as I like Jenna and Matty together, I really want Matty and Jenna to have a talk. There's a lot they need to hash out.

Speaking of couples hashing things out, Jake and Tamara's fight, or breakup, did not last very long, but it still looks like they'll continue to doing the same things that got them into the mess.

Nick McHatton is a TV Fanatic Staff Writer. Follow him on Twitter.

Tags: Awkward, Reviews