Grey's Anatomy Exclusive: Sarah Drew Teases April's Big Day, A Shocking Final Few Minutes
by Christina Tran at . Updated at . Comments
The countdown is on.
We are only days away from April's wedding, as Grey's Anatomy Season 10 Episode 12 will reveal whether this ceremony goes off without a hitch... or with many, many hitches.
Is April going to go all bridezilla? Will the wedding be a blissful occasion?
Dr. April Kepner herself, Sarah Drew, spoke with TV Fanatic and answered these questions and much more in a revealing, exclusive Q&A.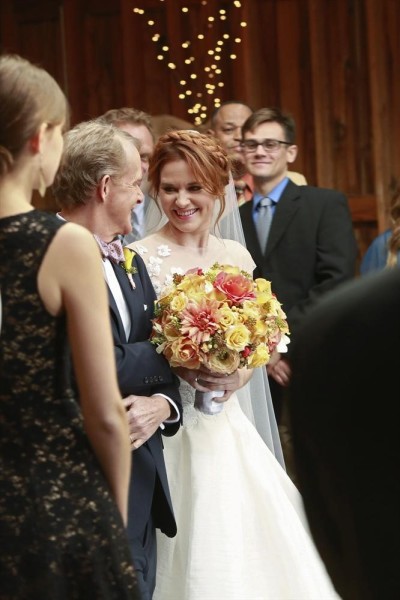 Throughout the years, we've seen April grow and evolve professionally and even personally. And that evolution will come to a full, exciting circle on Thursday's midseason finale.
"It was so fun," Drew said of filming the episode. "It's not often that I get to walk on set and be the belle of the ball. The dress is just incredible and the setting was absolutely stunning. What made it especially special was my real dad actually came out to walk me down the aisle. So, that was really sweet to share that experience with him, too."
But will April be relaxed on her big day? Or a frenzied mess?
"For the most part, she is not calm," Drew teased. "She chose to have three bridesmaids that generally tend to be pretty self-absorbed."
According to Drew, April will be caught in the crossfire of Meredith and Cristina's massive battle. Meanwhile, Arizona will be dealing with all of her own drama with Callie. Most importantly, April will be left wondering whether or not Jackson's going to make it to the wedding.
"She really wants him to be there because he's her best friend and it's important to her that he be there on her day," she said, adding that there will be one scene in particular that we'll find very funny, one involving April and an explosion of emotions.
As for the issue of April's soul mate - Matthew or Jackson - Drew simply said "it's really hard to tell because both of them are really good for her in different ways."
She noted that Matthew is a wonderful choice because he is incredibly supportive, charming and romantic. Then, there's Jackson who is also April's best friend and who she has known for years.
"I don't think anybody on the planet knows April as well as Jackson does. She spends a lot of time kind of hiding who she is and he's the first person who she really began to reveal her true self to," the actress said.

While Drew admits that both Matthew and Jackson are amazing choices for her character, she added it was all going to come down to what happens in people's hearts in the moment.

Finally, Drew teased that the last five minutes of the episode will be completely shocking.

From scenes from the hospital to the wedding, she promises there will be a bunch of different events that take place all at once that will leave fans wanting more - and not getting more until February!

"Don't go to the bathroom for the last five minutes. Don't leave the room. If you miss a second of it, it's going to be a problem," she said.

Don't forget to tune in to Grey's Anatomy on Thursday night for the winter finale and then return to TV Fanatic shortly after for our official review.

And remember: you can watch Grey's Anatomy online at any time in order to catch up on all you've missed!

Tags: Grey's Anatomy, Exclusives, Sarah Drew, Interviews