Hawaii Five-0 Scoop: Pearl Harbor, Grace Park's Return & More!
by Jim Halterman at . Updated at . Comments
As things quiet down toward the end of 2013, one show is busy stirring things up - and that's Hawaii Five-0.
Earlier this week, we found out exclusively that Nick Jonas will be returning in the season finale and it was also announced that Tom Berenger will appear as the father to Danny. And there's much more to come with the regular characters including, the full-time return of Grace Park as Kono.
On tonight's Hawaii Five 0 Season 4 Episode 10, we have a slightly change-of-pace installment that honors the memory of the men and women who were present on that fateful December day in 1941 when the Japanese bombed Pearl Harbor.
Executive Peter Lenkov and Co-Executive Producer Ken Solarz wrote the episode and talked to me about it earlier this week.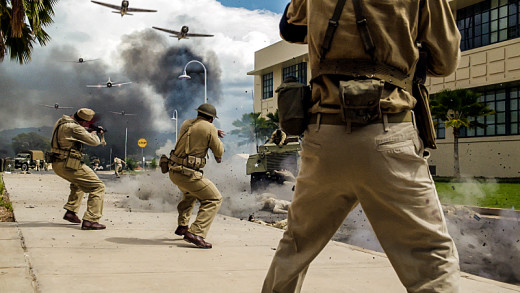 TV Fanatic: For being such a hardcore cop show in some ways, then I watch an episode like this and see that you guys are so sentimental over there.

Peter Lenkov: [laughs] Well, you know, we wear our hearts on our sleeves. It comes with age.

TVF: Tell me about the opening of the episode because it was quite epic. I felt like I was watching a movie!

PL: I think, like you said, for a high-octane show we're very sentimental. I think what we wanted to do was really come out of the gate with a bang. We wanted to tell the story. We thought if we could recreate the moment of the attack of Pearl Harbor that would probably be our biggest stunt or action sequence to date.

Part of that was us being selfish as writers wanting to write something big, wanting to recreate Pearl Harbor for the small screen, and challenging our cast and our crew doing something we've never done before. Also, it's in context with the story telling because it was a great way to get into the story and sort of ease the audience into the device of the story, which was going to be flashbacks.

TVF: Since you've been doing this show for several years now, have you found that Pearl harbor is still very present with many people that live there in Hawaii?

Ken Solarz: Absolutely. Case in point, when we were shooting there - we have a wonderful crew down there, everybody from actors to crew people - there was this reverential silence because we were actually on the spot where the attack took place. We were recreating that. When you go there,you feel the pull of history. You feel the weight of what happened there. I think that everyone in Hawaii does to some extent, especially if you're there and you're on hallowed ground recreating this attack. It's really quite memorable.

PL: Just to go back, after four years of doing this show I'm always getting calls from people asking me where to stay, where to eat, and they always bring up when they're going to Oahu making a trip to, making a pilgrimage to Pearl Harbor. I think it is still relevant. I think we're real history buffs here, but I think everybody knows the importance of that place and we're hoping they also learn something in our episode that you're not going to learn when you go to Pearl Harbor.

TVF: Tell me about the research you guys did, because there were things I learned that I didn't know.

KS: We did quite extensive research. Peter had this thought when he created the show, when he was immersing himself in all things Hawaii. Peter brought up the fact that there were internment camps there…that's pretty fertile ground for us so we just started digging into it and there are a lot of survivors of those camps still around. You can find oral history, you can find documentation, there's lots to read on it, but we thought that it would fit into our show because of what Hawaii's been through specific to Hawaii. That's what made it attractive to us.

TVF: Did you guys actually get some of the actual veterans there for that scene at Pearl Harbor? I kept thinking that a lot of the older faces we saw were probably real veterans.

PL: Yes. In fact, one of them is the father of one of our CBS executives. We put him in just really to honor these guys. That's really what it is, I mean, we have a very close relationship with the military and every now and then when we see them we do one or two episodes that are really a valentine to the military and pay tribute to the military. This is just one of those episodes.

TVF: The actor that played David was pretty amazing. I didn't think I'd seen him before.

KS: I'm sure you have seen him before that's the thing. James Saito (pictured above with Alex O'Loughlin) has been around for a half century…he has done Broadway, he's done movies, he's done everything. His crafts and skills are amazing. We have to tell you, we were shooting and the crew was just, every scene that this guy was in you could hear a pin drop on set. It was a real tour de force.

PL: We nearly aged him up about 30 years. James is really 58 years old. So, I think what you're seeing there is an amazing actor playing a survivor. His body language, from his walk with his back crooked to everything he did, every move was really calculated and the sign of a really strong actor. And naturally, when we talked about the role, we had a list of names. I'm trying to remember this, but I think it was Daniel Dae Kim who brought James up first and said "You got to look at James." I think our first concern was is he age appropriate? And after looking at his reel we thought, wow we're not going to get better than this. Hair and makeup came in and they said "Yes we'll be able to make this work."

TVF: What's coming in the New Year on the show?

PL: Well, we're just starting to shoot a three-episode part for Melanie Griffith who plays Danny's mother. Tom Berenger is going to play his father in the last episode, so we're excited about that. Three really fun episodes for Scott and his mom to play around.

We have a great episode every year where really we cement the blood brother aspect or the bromance between McGarrett and Danny. Last year was them stuck on a raft and the year before was the bomb. We always do one of these episodes, we just do one of these episodes that put Danny and McGarrett together for most of the episode and put them in some kind of jeopardy to show that they are true blood brothers.

We're getting to find out a little bit of Catherine's back story, Grace is back in the picture full time starting in the New Year, Kono is back full-time. She's back from searching for Adam. So it's the family back together. Grover is going to be a bigger part of our family [Chi McBride was recently made a series regular], there's still going to be that animosity, but they're going to learn to love each other, these two guys. They both have a very similar experience and they're going to bond over that. Then we're going to get this big revelation from McGarrett. There's going to be a lot of great character stuff and I actually think some of our better stories are coming up.

Hawaii Five-0 Season 4 airs Fridays at 9/8c on CBS. 

Jim Halterman is the West Coast Editor of TV Fanatic and the owner of JimHalterman.com. Follow him on Twitter.

Tags: Spoilers, Hawaii Five-0, Interviews, Exclusives