I'd like to start out with an administrative note. Miranda Wicker has begun her busy season, and I'll be taking over the Bones reviews for the New Year. I hope to get to know all of the regular Bones fans and that we can have some fun chatting about the series.
On Bones Season 9 Episode 12, Brennan found herself haunted by Christopher Pelant, and much like the other dreams featured in series this year, she's having nightmares within nightmares.
Booth doesn't understand why she can't let his last words go. He wants to support her, but he's not having an easy time of it. None of her colleagues are able to bridge that gap.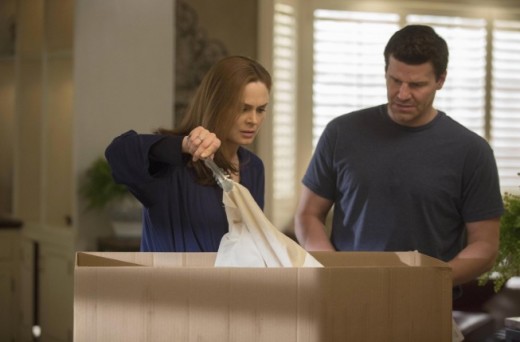 When a box appears on their front door, nobody could have imagined how close to home it would hit for so many at the Jeffersonian. I do have to point something out. Brennan said, "Someone took great care in packaging these remains." Really, Brennan? If the box had been tipped just slightly to the left or right they would have been completely scattered. 
It was mentioned more than once how carefully the bones were wrapped in cloth, etc., but the head was just hanging out with hair all over. Granted, whoever delivered it probably did the posing, but still -- saying it was carefully done drove me crazy. 
At the top of Brennan's mind was the female serial killer she was certain was out there, and through the power of screenwriting the case of the girl in the box, sailing champion Lana Brewster who was found after her boat sank 18 years earlier, it appeared that the case shared similarities with other cases Brennan believed were actually killed by the serial killer.
Things got really interesting when Lana Brewster was further linked to an old acquaintance of Hodgins from his prep school days. 
Hodgins is such an interestingly written character. To have lost his entire fortune, he still believes he has more than he needs in life and is blessed beyond so many others. Revisiting his past and the life he came from, realizing how he could have ended up and the people he could have missed meeting had he chosen a different path without his love of bugs seemed to give him an appreciation for a man he once really disliked.
Trent was in love with Lana, and the most likely candidate to have murdered her. The only person who didn't think he did it was Hodgins, and he was one of the only two relatively certain Trent didn't kill himself when he was found with a bullet wound to his head.
Was I right that Steph, the woman with Trent, was his sister? At first I thought she was his wife, but after his death, as she talked about Daddy and how Trent was the last male in the family and how it was better that way, I thought, "OH, I've been wrong here." I also wondered if she might not be the serial killer. She knew both victims this hour, probably knows how to fence and seems to have issues with men thanks to her dad. 
Additionally, Kelly Rutherford is a well-known actress, and having a bit part without the potential of it going longer seems unlikely to me. So there's my theory. Steph is the serial killer -- especially because of the ties to Hodgins and his past and how many other potential people they can bring in with that material.

I really like stories that don't end happily on Bones. It keeps the story fresh and reminds us that it's so much more than a procedural. I'm not going to lie; I also greatly appreciated the lack of gore. Somehow I always find myself eating while watching Bones, and sometimes the more grizzly images can be nauseating.

The entire episode felt very emotional and family oriented -- Hodgins appreciation for his life and care for a man he had long since forgotten, Booth putting his faith into Brennan's hunches about the serial killer, Edison's breakup and Brennan letting go of some of her control over things at the lab by allowing Cam to do things her way. 

By the end of the hour, even though nothing was resolved and the overall feeling was one of sadness, I felt as if I was wrapped in a warm blanket, with friends.

Do you think we've already met the serial killer?

Carissa Pavlica is the managing editor and staff writer for TV Fanatic. Follow her on Twitter and on Google+.

Tags: Bones, Reviews