Dance Moms took off for Roanoke, Virginia this week, with Payton on crutches and the team receiving a very serious lecture from Abby:
There will be no fooling around backstage!
Kendall, meanwhile, ends up on the bottom after being late, joined there by Nia and Brooke. The second row consists of Chloe, Paige and MacKenzie, leaving Maddie on top.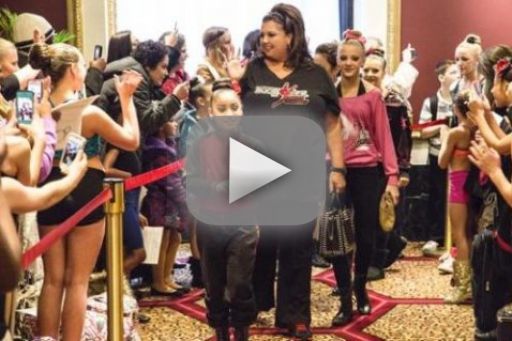 Abby informs the girls that their routine will be "The Witches of East Canton." Maddie is "Good," everyone else is "Evil" and the team members are told to channel their mothers.

A fight breaks out among the moms when Chloe receives the first rehearsal time, as Jill goes off on everyone and Holly does all she can to maintain peace.

More tension rises when Abby talks to the girls about replacement and makes it clear she is willing to go to any length for victory. Seriously... any length.

In Roanoke, Abby and the team are greeted with cheers. When all the mothers fret about Cathy, Abby believes everyone should just be concerned about the performance.

Naturally, Jill then gets upset that Kendall must dance first. While she complains, Christi encourages Chloe.

But Kendall is hesitant during her jazz routine, which features Cathy sitting behind Jill and making snarky comments. Sh's quiet, though when it's time for Chloe to go all contemporary.

As for the group numbers? Cathy's "Wild" party looks solid enough, despite a few miscues.

Abby pumps her girls up for theirs, focusing on Maddie as the star. It goes well. Christi admits the girls look beautiful and Melissa says they gave her goosebumps.

Chloe comes in first at the awards and, yes, Abby's team wins! Cathy shows zero class afterward, leaving the ceremony right away and saying that Abby only won because the judges know her well.

Abby, however, isn't pleased because Kendall came in second. She ends the episode by saying open auditions are still very much a go.

Matt Richenthal is the Editor in Chief of TV Fanatic. Follow him on Twitter and on Google+.

Tags: Dance Moms, Reality TV