Honeymoon, schmoneymoon.
On Here Comes Honey Boo Boo Season 3 Episode 3, June and Sugar Bear realized they never too a trip after committing to each other via ceremony, so they came up with the next best thing: A Familymoon!
It was off to the RV for everyone as a result, as the unit's latest journey took them to an animal safari, a children's museum and a candy shop.
(Note: Sugar Bear didn't care where they went as long as he and June found a vibrating bed. Second note: GROSS.)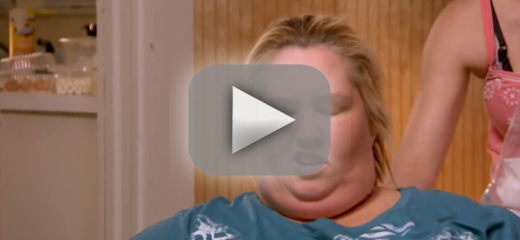 Even grosser than June and Sugar getting it on? Family communal bathroom time, which June initiated and which meant everyone used the RV's toilet without flushing it until the final person did his/her business.

First stop: a safari, where a giraffe sticks his tongue through the window and there Jessica and Lauryn figure they'll make out with it for money because… of course they do.

Alana is afraid the animal will get sick from swapping spit with her sisters.

On day two, following hot dogs and Powerade for breakfast, the family heads to South Caroline's Edventure Children's Museum, with June hoping the kids "might actually learn something."

And they do! They meet Ed, a pretend toddler who is actually bigger than Honey Boo Boo. For real! You can climb inside and see his intestines and take a ride down his "poop shoot."

Mama June declares it "family communal bathroom time" where everyone takes a turn using the toilet without flushing it until the last person has used the porcelain throne.

This, naturally, leads to a discussion on poop and whose was brown and red that morning.

On the way back, the family buys six pounds of candy and the shop owners say they have never seen "grazing quite like that before." Such an image might actually be more disgusting than that whole brown-and-red-poop thing.

Matt Richenthal is the Editor in Chief of TV Fanatic. Follow him on Twitter and on Google+.

Tags: Here Comes Honey Boo Boo, Reality TV