Justified Interview: Walton Goggins on Boyd's Spiral, Living Happily Ever After & More
by Jim Halterman at . Updated at . Comments
Justified Season 5 is off and running.
Knowing next season will be the show's last, there was a different feel to the recent panel with cast and creator Graham Yost at the Television Critics Association Winter Press Tour.
Why is Yost pulling the plug after Season 6?
"A lot was just sort of figuring out how much story we had left," he explained during the panel. "Our biggest concern telling these stories is that we don't run out of story and we start repeating ourselves…there were financial incentives to keep going, but it really felt, in terms of the story of Raylan Givens in Kentucky, that six years felt about right."
Where the end of the sixth season will leave fan favorite Boyd Crowder and his wife, Ava, remains to be seen - but I sat down with Walton Goggins after the panel to ask him his thoughts on the impending end, how we'll see Boyd react to Ava being in prison and what he thinks when people call him a sex symbol.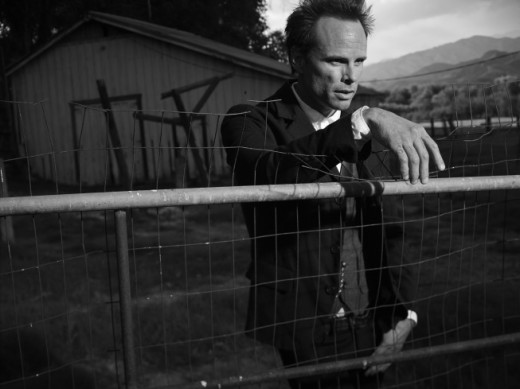 TV Fanatic: In the past, Boyd and Ava in the past they talked about just going away and getting out of all of this change in their lives. Do you think that's actually possible for somebody like Boyd?
Walton Goggins: I think we'll never know the answer to that question and I would be surprised if that question wasn't raised again but sometimes I think we as human beings don't realize the life we're living and the opportunities that present themselves until they're gone and for a moment everything was right in the world with these two people and they almost made it but the fates conspired, the stars aligned – and Graham Yost – to disrupt that utopia and I'll say these are two people who come from very violent backgrounds and live life very violently and I think ultimately their fate or at least Boyd Crowder's fate will be one of violence. We'll see. We'll see what happens. I don't know how it's going to end.
TVF: Boyd and Raylan haven't crossed paths yet? Is that happening soon? Everybody always loves those scenes when you guys are together.
WG: Goddamn. Not as much as I think I do. I love them. I love them, too. I really do. They do come together. It is far and few between because Graham, I think very wisely, is only bringing them together when they have a real need to say something to each other and in ways that advances their relationship and that moves that ball forward.
So I can't say how often or when but suffice to say we do come together and I think it will be surprising at least the way that I understand now where they will sit at the end of this season and it will be different than last year. Last year, I think and I've said this before, Boyd Crowder really for the first time said 'I don't like you' and he meant it. So we'll see. We have miles to go.
TVF: The Crowes are such a big part of this season, all of them and they're so fun. I mean fun but scary. I know they're going to get scarier as we get in. What's Boyd's interaction with them?
WG: People come together at some point. Nefarious people find nefarious people.
TVF: They're like magnets or something.
WG: Yeah, and maybe because Harlan is a small community but, yeah, they do come into each other's orbit and I will only say that I'm so happy with the way the scene between the first meeting of Darryl Crowe and Boyd Crowder turned out.
I was chomping at the bit to get on-screen with Michael Rapaport and I've been a fan of his for such a long time and we talked about the scene and we talked about it and we talked about it and we talked about it, myself and the writers, and we were just debating about 'what is the best way for these two people to meet?' and we went in a direction that really I think set the tone for the relationship between Darryl Crowe Junior and Boyd Crowder.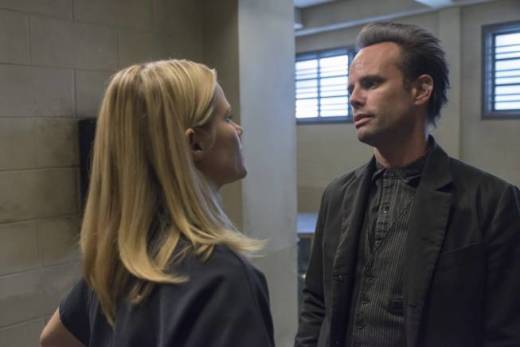 TVF: Now in that instance without spoiling anything, when you are chomping at the bit to get to a scene, do you want to work on it a lot or is it more about just getting in there and letting the magic happen? Did you and Michael actually rehearse this scene?

WG: No, no, no, no. I mean I like to rehearse but more often than not, we live in a world where you're just not afforded that opportunity. So I like to rehearse on-screen because we're not using film anymore and it's much cheaper to do that and when you approach it from that angle then you take out of the equation the need to get it right and it becomes an exploration on the camera, in front of the camera and for me, I get off on that.

If I were to say a sentence to you now, it would never come out the same way if I said it again a minute from now and that's what I like about using digital cameras to photograph it now because it's just cheaper. When we were doing The Shield it was fucking sixteen millimeter, man, and you've got to move and then you have to take all of the time in between to put the mag back on and all of that.

TVF: How much is Ava's being in prison going to cause Boyd to spiral more than he normally might?

WG: I think that's literally the best question that I've been asked, specific question, in the last few days. It is beyond spiraling. I would use the word unraveling and I don't know if it's something that he will recover from. I genuinely don't know and it is a product of a man who is used to leaning forward being back on his heels. From the moment you meet him this season after the first scene, it will take its toll in ways that I don't even know now but I'm excited to see where it all ends, man.

TVF: I'm sure Graham has an idea how things are going to end after season 6 and you probably don't know a lot of that yet but let me ask you this - do you like happily ever afters?

WG: Absolutely. Walton Goggins likes happily ever afters, for sure. Do I think it's in the cards happily ever after for Boyd Crowder or Boyd and Ava? I guess it depends on your definition of happily ever after. Who knows? Maybe they will be joined in the afterlife or maybe they won't. I think all of those conversations are yet to be had about the specifics of how it all plays out. I have a real definitive idea of how I would like to see my Boyd Crowder, Elmore's Boyd Crowder, end but we'll wait. I'll keep that close to my vest.

TVF: Are you okay with an end coming next year? Does that actually help knowing there's finality now?

WG: I am. Yeah. I really am. Yeah. I just think quality rather than quantity and I think that it takes six years to tell the story and I don't think Graham knew that until he got into it but that's as much coal as we have to mine and we're not going to leave a piece behind.

TVF: Do you like to watch yourself on TV or films?

WG: No, I don't, man. I've produced four movies with my old film making partner and during that process you're forced to look at your performance over and over and over and over and over and over again and in a way it's like I would rather never watch it or watch it a thousand times because I just don't notice it anymore. I've not watched, I don't know, maybe half of the things I've done over the course of my career and for those things that I do watch I usually only watch them once and then I lay it down. I've never seen Venus [Van Dam on Sons Of Anarchy] for instance.

A lot of the things that I don't see [are] because they were so personal on the day. It meant so much to me that watching them could never live up to the expectation that I had from actually living them and they're special to me that way. They're more special that way and they're like a little prize kind of jewel that I keep in a box.

TVF: I have to tell you, it's so nice to see somebody who loves what they do. You love what you do.

WG: Fucking love it, man.

TVF:  You do. It shows.

WG: Fucking love it.

TVF: When you hear people call you a sex symbol, do you buy that? What do you think of that?

WG: I just make my wife read it over and over again. I pin that shit up all over the house. No, I don't know. I need to read what you're reading…if anything I'm unique because somehow all this kind of works from the size of this forehead to the size of these teeth and the fucking hair. This is all I've got. I'm just going to play it as it lays.

Justified Season 5 airs Tuesdays at 10 p.m. on FX.

Jim Halterman is the West Coast Editor of TV Fanatic and the owner of JimHalterman.com. Follow him on Twitter.

Tags: Justified, Walton Goggins, Interviews, Exclusives