Raylan Givens loves stirring the pot, and after his first encounter with the entire Crowe clan in Kentucky during Justified Season 5 Episode 4, it's safe to say that whatever is cooking has been properly mixed.
With Dewey and Messer on a ridiculous romp through the hills, Raylan went looking for the latter, who we know was a CI informing on Boyd Crowder. One of his first turns was at Messer's place, where he found a pantless Danny Crow and a big, scary dog.
Two of the toughest gunslingers on television - Raylan Givens and Tim Gutterson - were forced to retreat and jump up on top of a couple of cars because...the dog was barking and chasing them?!?! That was funny.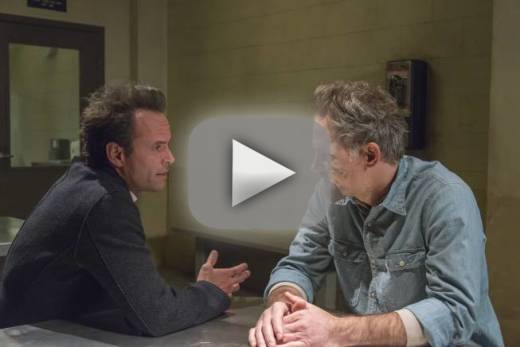 Later on, though, Raylan met with the whole tribe, finding Daryl, Danny and little Kendall at Audry's - and that's when he made things happen.
Picking Kendall up for tending bar as little kid was an interesting move to try and force the Crowes to get out of Dodge, but does anyone think that is actually going to work? Even Raylan? Daryl doesn't seem like the kind of guy that backs down when he is pushed. My guess is that this escalates quickly and the Crowes make a point to screw up whatever Raylan has going on.
Which apparently is a lot now that Art has made his way up to Detroit. There have been hints that there will be a big blow up between Art and Raylan this season, and it's pretty obvious that it will involve Art finding out what Raylan did on that tarmac when Nicky Augustine got shot up a million times over.
While he was, of course, on the Marshal's radar for having done something to the missing Messer, Boyd was off of Raylan's hit list after another spectacular encounter between the on-again-off-again rivals. Instead he was busy figuring out what his cousin Johnny was up to.
The fact that it turned out to be that he was in with Hot Rod Dunham makes me very happy.
Raylan told him to stay in Memphis so this could mean a Raylan/Boyd team-up
It could possibly lead to a return of the Harris brothers?!?
As Raylan and Boyd were doing their thing, and Ava was attempting to ward off tiny prison guards with the help of her "protection," our favorite Kentucky Crowe toook us all on a wild adventure of survival through the mountains.

Damon Haerriman has been great since joining the show, but in the early parts of Justified Season 5, and in "Over the Mountain" specifically, he was just fantastic. The dude plays stupid and scared as well as anyone I've seen.

Oh, and sun poisoned. I forgot to mention how well he plays sun poisoned. Whether it was messing up the original hit, getting lost in the heat, praying for help or his entire interaction with the people who found him, Dewey Crowe was a joy to watch during the hour.

But what did you all think? What were you favorite moments in Justified Season 5 Episode 4? What didn't quite work? And what do you think Art's reaction will be after finding out about Raylan?

Dan Forcella is a TV Fanatic Staff Writer. Follow him on Twitter.

Tags: Justified, Reviews