The search for Bo begins!
With the memory of Bo fresh in the minds of her friends and family, they were desperate to find her in Lost Girl Season 4 Episode 2. While they looked for her, she's regained consciousness and looked for a way home.
In line with Lost Girl Season 4 Episode 1, the follow-up hour continued to be missing the heart of the show. Bo's absence and the separation of her posse provided a hollow tone at times. The plot moved forward, but the lack of Lost Girl camaraderie was palpable. I missed it.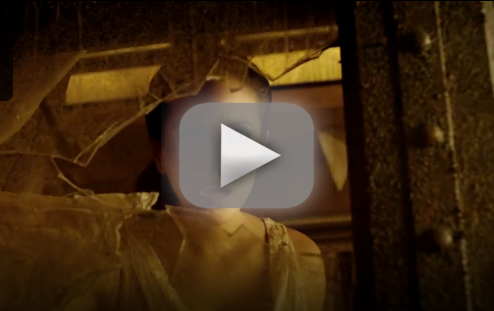 That's not to say there weren't some great reveals and moments. Bo my be missing, but Tamsin was found. She was re-born and living wild near the car crash. While it was hilarious to watch Kenzi "babysit" Tam-Tam, I was happy to see the Valkyrie's evolution has a quick turnaround. I'd like to see Rachel Skarsten back sooner rather than later.

Dyson's declaration of love for Bo was touching and honorable. Even though he believed he would never have her heart again, he needed to help her. More importantly, he used his experience to help Hale recognize his own feelings for Kenzi.

Finally! Hale and Kenzi embraced and more. It was about time. In Lost Girl fashion, they were interrupted before they could fully enjoy their newly exposed feelings for each other. At least someone will be getting some lovin' in Bo's absence. 

While Bo's friends are searching for her, the Una Mens have come to town to establish order among the Fae. With the Morrigan presumed dead, they torture Vex to find out the location of her body. He revealed that Evony's not dead, but gone. Hmm.... That's an intriguing twist.

Vex then offered to help them find someone they want, presumably Bo, in order to protect himself. The Una Men agree, but first infect him with some weird beatle-like thing. I'm not sure it's going to end well for Vex. Though, I hope he sticks around for a while since he brings a special something to the show..

The quest to find Bo took a meandering path through the beauty school, a speechless Fae, and then eventually to Eddie. Only Eddie wasn't really Eddie, the elemental Fae, that Dyson needed. It was Cleo who could open the door to the other realm. And the key was "The Wanderer" card with Bo on it.

Bo's been kept in a moving train of sorts between the realms. She woke up and encountered a maid who feared a "man." Bo's father, probably. Instead of sticking around to find out, Bo took just enough juice from the maid to give her the strength to take a huge leap ... off the train.

As she did that, Dyson and Cleo were used "The Wanderer" card as a ticket to get on the train. A case of poor timing? Or, the first step to Bo's reunion with her loved ones? The sooner she gets back the better. Lost Girl just isn't the same without Bo's interactions with her friends and family or her influence over the Fae world.

Meanwhile, in a diner somewhere, Lauren has hidden herself away working as a waitress. She's in contact with Dyson, but he claimed it wasn't safe for her to return. Why? It seems the Fae have found her. My first thought when she cut open the Fae to save him was it was all a set up. 

It was a risky one, if it was. It would be disastrous for the Fae if the video Lauren's co-worker took got out. Did she really delete it? I guess we'll have to wait to find out. Since the waitress is into Lauren, it's likely she'd do anything the doctor asked.  

Given the short season, the sooner Bo and Lauren find their ways back to the Dal the better. I'm ready to have Team Bo back together again, including an adult Tamsin.

From the looks of the Una Mens, the Fae community to use Team Bo's help in restoring order to the secretive world.

Which is your favorite Tamsin?

Carla Day is a staff writer for TV Fanatic. Follow her on Twitter and on Google+.

Tags: Lost Girl, Reviews
Want more Lost Girl?
Sign up for our daily newsletter and receive the latest tv news delivered to your inbox for free!
More From TV Fanatic
On tonight's The Bridge, the search for Eleanor continues. Will she kill again before she's found?
On Extant, Molly reveals her pregnancy to John. However, Sparks' story isn't exactly a plausible explanation.
On Graceland, Mike, Briggs and the team pull out all the stops to get Paige back. Read our review of "The Unlucky One" to find out if they were successful.
On Suits, Rachel and Jessica's life choices seep their way into the business of the men in their lives, some of which only cause more problems. Read out review of "Litt the Hell Up."
---