Nashville Creator Teases Love Triangles, Death... and Kelly Clarkson
by Jim Halterman at . Updated at . Comments
Rayna and Deacon. Juliette/Avery/Juliette. Death. And, why not, Kelly Clarkson.
That eclectic mix is what you'll see when Nashville kicks off its 2014 run tonight, making this the perfect time to check in with series creator Callie Khouri.
In the following exclusive, we find out how she and her writers work out killing off characters; where the love triangle between Avery, Scarlett and Juliette is headed; whether Deacon find solo success; and how superstar Kelly Clarkson ended up in Nashville Season 2 Episode 11.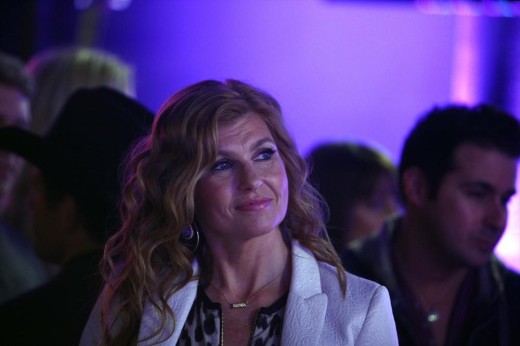 TV Fanatic: Not wanting to spoil anything, when you do decide to let go of a character, how much discussion goes into it?

Callie Khouri: Quite a bit as you can imagine…but anytime because it's a decision from which there is no going back. You're going to have to live with it and so you've really got to convince that you're not ever seeing this person again. It's not easy. So, we talked about it for months.

TVF: The one good thing that always seems to come out of it is that you get a lot of story because it usually propels other people into different areas.

CK: Right and that was one of the soapier aspects of the show, too. I think it's one of the things that you need those elements to change because otherwise it just gets too much. What are you going to do next, you know? 

TVF: How much of a threat does Teddy still need to live with moving forward? I mean, somebody was trying to kill him.

CK: It's going to color everything he does for awhile because there is no explanation. He's not satisfied with what the police have done in terms of getting to the bottom. It's not a closed casebook yet. It's like, God, what if it had been one of his kids?

TVF: The show do such a good job bringing real life celebrities and Kelly Clarkson is in this week's episode. Are people coming to you much more now that the show is more established?

CK: Yes. You know the thing that has been really, really great us is that because our cast and our show is so integrated into the city of Nashville now and Nashville really likes the show and the artists feel like they're really well represented. Like the business is well represented and we're not making fun of Nashville. We're not making fun of country music. We're not doing anything like that.

There's a lot of really big fans of the show that are in the business. So, we have had a lot of people come forward, 'hey, I'd love to do it.' The first thing I had a little trepidation about [was] how much crossover we would want to do into the country music theme…for instance, our cast will be on the Opry and you'll see them at gigs around town. It's almost like 'well, I don't feel as bad for having that go both ways.'

TVF: Let's touch on our characters. Deacon is in a place where his dreams could come true but is he going to get in his own way of that?

CK: Deacon never does anything the easy way. Nothing comes easily to him. It never really has. It's not like he gets a big break and suddenly he's at the top of the charts….we're going to see what it's like for somebody to start to try to build a solo career from the ground up. Especially somebody that's been around for a long time and in some ways he's a known quantity, but not around Nashville. He's not known so much outside of the music world and all of that and yet, is in every way talented enough and deserving enough to have a spot. We're just going to show what that's really like [and] how difficult that is to do.

TVF: Is it safe to say that might cause him to cross into Rayna's path a little more? She's in a similar position building her own record label from the ground up.

CK: I think the thing that throws him into Rayna's path more than anything is that fact that Maddie knows that she's her dad and she wants a relationship with him. I think that Rayna wants a relationship that really works for her and I think that she's seriously convinced at this point that the one with Deacon is not that one.

TVF: Talk to me about this little love triangle kind of brewing between Avery, Scarlett, and Juliette. Is that something that's going to come to fruition because Avery definitely seems to be wavering kind of back and forth a little bit.

CK: Well, you know, it's Nashville and there's never a straight line…I think Juliette really got her feelings hurt when she came over there to pour her heart out and then sees Scarlett there [with him]. Juliette really doesn't like to make herself super vulnerable in a situation.

TVF: You're also opening people's eyes up to the country music scene a little more because I don't think you guys have had a bad song on the show yet.

CK: I think what we're doing with the show is bringing more attention to the music itself, but there's also a lot of the music that lives in Nashville that would never get out otherwise. We're not just putting out big radio hits. We're putting out the quiet stuff too. I think people really appreciate that.

TVF: Rayna seems pretty happy with Luke, but I always wait for the other shoe to drop when somebody seems happy for a second.

CK: You're not wrong. You know, we as a show are also having a little bit of a love affair with the actor Will Chase. So wonderful and super funny and he's really been a great breath of fresh air for us and so we're going to let him stick around one way or another for a bit longer here.

TVF: Isn't that great when you guys bring somebody in and they work out so well. Like with Chris Carmack (Will). I don't think you guys initially envisioned him to be around as long as he has been, but he fits in the show really well.

CK: Yes. He really does and that's one of the great things about the show is for us. I don't mean to say it for the world at large, but for us it's like we can just keep expanding the family because it's not like we're running out of talented people to put in the show. It keeps it from becoming really claustrophobic and it's given us a little bit of breathing room.

TVF: Any big shockers coming down the pike?

CK: We've got a few big surprises up our sleeve. Yes.

Nashville Season 2 airs Wednesdays at 10/9c on ABC.

Jim Halterman is the West Coast Editor of TV Fanatic and the owner of JimHalterman.com. Follow him on Twitter.

Tags: Nashville, Interviews, Exclusives, Spoilers