NeNe Leakes' "Pillow Talk or Pillow Fight" turned into an all out brawl on The Real Housewives of Atlanta Season 6 Episode 13, as everyone was left asking who was to blame.
What on earth happened that caused Phaedra Parks' husband Apollo to start throwing punches at a pillow talk party?
We recap the lingerie clad showdown in our TVF +/- review...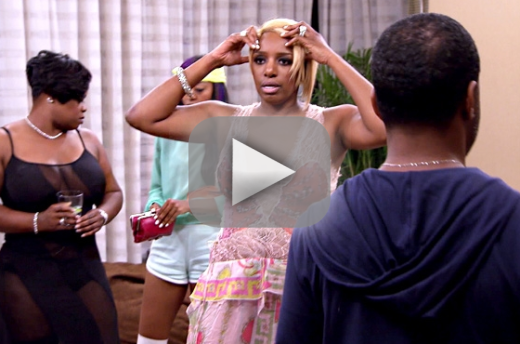 Minus 20 because we're still trying to figure that out.
First off, what was up with NeNe's questions? She said they were suppose to be about bringing people together but why did every one of them come across as a dig at her friends? It was almost as though Ms. Leakes was trying to stir up trouble or reopen old wounds.  Minus 33.
Perhaps that's why NeNe couldn't stop all of that nervous pacing as they got started.
Then Natalie decided to confront her husband about Kenya's claim that he said she was only his Common Law wife. I found it interesting that Christopher got up and walked away. Maybe he didn't want to answer that question. 
Is it just me or does Natalie love to stir things up amongst these women?  My guess is she's angling for a permanent spot on the show next season. Minus 10. I'd be happier if she left and didn't come back. 
NeNe blames Kenya Moore for starting things by getting up to confront Natalie but all she did was get up off the sofa. I'm not a big fan of Kenya's but I don't think this brawl started because she stood up to speak. 
Things escalated quickly from there when Christopher grabbed her arm and Kenya's friend Brandon was quick to jump in. 
For a moment there it looked like Peter was the man of the hour. He managed to break the two up and was moving Brandon off to the side without too much fuss. Plus 25.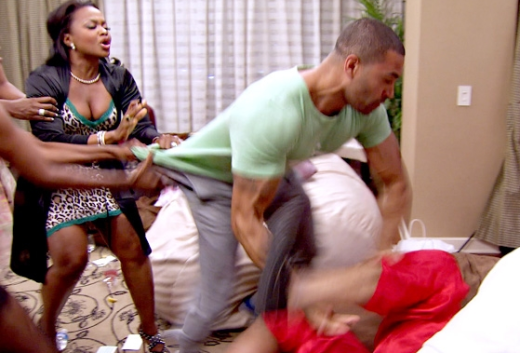 Then came Apollo…

He'll claim he was just backing up Peter but Apollo grabbed Brandon by the throat and threw him back onto the sofa. Then he started throwing punches and all hell broke loose. 

What was scary was how aggressive Apollo was and how no one could seem to calm him down. Minus 40. Let's hope Phaedra's kids didn't inherit that temper. 

And as for Ms. Parks over the top party for little Dylan, aka Mr. President, perhaps she should have saved some of the money she spent for her husband's legal fees. 

But back to NeNe's party. It was off the hook even by Housewives standards with the crew and security jumping in to break up the fight and Apollo stripping down before coming back for more. 

And in the most hilarious moment of the night…did anyone else see Chuck cowering in a corner?  Plus 50 to see the bad ass, arrogant football player caught on camera hiding behind his wife. 

As wild as this pillow party got, it looks like it's not over yet because the previews show Peter and Todd in one another's faces and someone even has to hold Kandi back!

Is next Sunday here yet?

Episode total = -28! Season total = -784!

So tell us,  who was really to blame for this debacle of a party?

C. Orlando is a TV Fanatic Staff Writer. Follow her on Twitter.

Tags: The Real Housewives of Atlanta, Reviews, Reality TV