The girls have been on fire throughout Dance Moms Season 4.
They've swept most of their divisions. They've continually won competitions. And yet they'v been forced to watch Abby constantly hold open auditions, wondering who will come in and who might be replaced.
We got the answer to one of those questions on Dance Moms Season 4 Episode 6: meet Chloe. OR New Chloe, as Abby dubbed the possible new charge.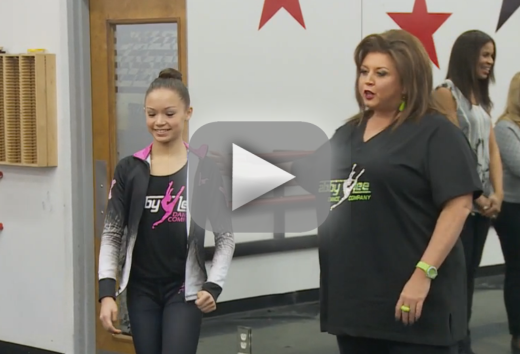 Where did she fit into the pyramid? On the second tier above many regulars (Mackenzie, Brooke, Paige and Kendall).

Nia came in first, pleasing her mother greatly, but Holly's satisfaction didn't last long: despite the victory, Nia only gets a duet with Kendall. The solos will go to Chloe and - you guessed it - New Chloe.

New Chloe's mom, Kim, is rubbing everyone the wrong way. She's talking up her daughter as a star and completely ignores all of New Chloe's mistakes. The kid just can't keep up with her fellow dancers and must be taught a lot of the basics by Abby.

The highlight of this scripted tension? When Kim took a call from New Chloe's former coach and openly bashed Abby's dance, while saying her daughter is easily the best one there.

On to the actual dancing: Nia and Kendall did pretty well with their duet. Original Chloe went first with her solo, likely fired up by the competition.

But New Chloe's hair piece fell off, prompting Kim to say her child was sabotaged and to say she was "slumming it" by even being in Pittsburgh. Great stuff.

In the end, the group dance marked the only win for the team, meaning Abby has learned her lesson and will now focus on her veterans? She won't distract them and herself with newbies? Nope.

She wants to replace the entire team! Cue credits.

Matt Richenthal is the Editor in Chief of TV Fanatic. Follow him on Twitter and on Google+.

Tags: Dance Moms, Reality TV, Reviews