The upstairs and downstairs surprised me again on Downton Abbey Season 4 Episode 5, as the former seemed more willing to accept modern ways while the latter were easily shocked as progress continued to invade Downton.
After I had time to process that, it made sense.
As things change, the wealthy will still have their money and it will be easier for them to adapt. We've witnessed with Molesley how difficult it is to transfer servants' skills to the outside world. His tender hands were fixing roads. That's quite a tumble, and not nearly as far as a potential drop to footman status.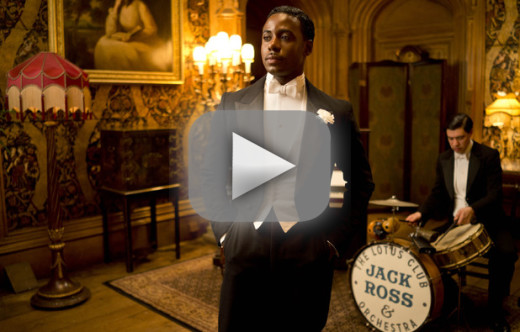 That's what I'm finding the most interesting on Downton right now. I may be alone in this, but no storyline involving Mary is remotely interesting. Her tone of voice is always condescending, even when she's attempting to pass off as caring, as she was as she inquired about Anna and Bates from her bed, and later told Anna to enjoy her evening out as she was sure she could get off to bed by herself. Oh how gracious!

The most touching conversation involving Mary in any way was between her, Isobel and Tom, as the recalled what it was like to have great love, even though they lost it. It's nice that they realize how lucky they were to have been so fortunate and can talk about it without being maudlin.

Even so, Tom is still tossing around the idea of emigrating to the U.S. It would be an interesting idea as Downton winds down to follow a series about someone who moved from England to the U.S. at that period, if Julian Fellowes is listening. Tom is such a likeable character, and he is underutilized at and on Downton. As he and Isobel danced, she pointed out if jazz can be playing in the halls of Downton, he should expect any sort of change is possible.

Not so much change, however, as accepting Rose and Jack Ross canoodling in the kitchen. You can push the limits one step at a time young Rose, not lead a full force invasion. She doesn't quite know how to tread lightly just yet. I wonder which side of Mary will react to what she discovered.

It was interesting that Carson and friends in the kitchen were more shocked about the entrance of Jack Ross than the Granthams, who quickly shook off any surprise and quickly took to dancing the night away. If they were doing anything to hide their emotions it would have come to light when the Lord and Lady took to bed, but they seemed quite pleased with the evening. I was rather proud of them.

I was equally proud of Cora stepping in for Anna and Bates at the restaurant when the maître d tried to shoo them away by using the Grantham name, no less, as an excuse for not giving them a table. It was especially wonderful when she offered them a ride home and expected it would assure them a table for the remainder of their lives. 

Speaking with Mary about Anna and Bates gave Baxter more information to carry to Thomas. What game is he playing? Baxter was rather ambiguous when she agreed to play his game. Will she have the guts to call him on it and tell Lady Grantham what he's up to? Somebody has to call him on his crap sooner or later. Baxter respects Cora and doesn't like telling tales. We don't know what Thomas has on her, but she'd do well to choose the side of her Lady before it's too late.

It's pretty clear that outside of sparring with Isobel, the writers have no idea what to do with Violet. Their old ladies argue over justice story was goofy, and beneath the skills of both women. I especially disliked that tweedledee and tweedledum music they played as the two of them shared screen time. Being elderly doesn't mean your life is relegated to worrying about your letter opener.

I'm still trying to understand exactly why no man other than the dead William ever fancies Daisy. She's sweet and pretty. Alfred kindly put her off when he left by telling her she would have never been for him, but it would have been better if he had told her why. Ivy, meanwhile, plays coy and when Jimmy kisses her she is beside herself with outrage that he took such advantage. Mrs. Hughes, bless her, suggested she had it coming.

It's time to take the focus off of Ivy and let Daisy find a nice boy. In the new day and age, wouldn't the servants leave Downton to meet other people in the village? Certainly their only prospects didn't come from inside their place of employment.

We have confirmation on two things. Edith is definitely exhibiting symptoms associated with the first trimester of pregnancy. It's interesting to note there was no pregnancy test available at this time. The news couldn't have come at a worse time for Edith, since Michael is also missing. It's not just her imagination either, or the police in Munich wouldn't have agreed to get involved. 

Edith and Daisy should start a club. Officially, they have the worst romantic luck at Downton.

What will Mary do after seeing Rose and Jack?

Carissa Pavlica is a staff writer for TV Fanatic. Follow her on Twitter and on Google+.

Tags: Downton Abbey, Reviews
Want more Downton Abbey?
Sign up for our daily newsletter and receive the latest tv news delivered to your inbox for free!
More From TV Fanatic
On tonight's The Bridge, the search for Eleanor continues. Will she kill again before she's found?
On Extant, Molly reveals her pregnancy to John. However, Sparks' story isn't exactly a plausible explanation.
On Graceland, Mike, Briggs and the team pull out all the stops to get Paige back. Read our review of "The Unlucky One" to find out if they were successful.
On Suits, Rachel and Jessica's life choices seep their way into the business of the men in their lives, some of which only cause more problems. Read out review of "Litt the Hell Up."
---