Ready for another fabulous, gruesome portion of Hannibal?
The series both charmed and freaked us out in the best ways when it premiered last year and, with Hannibal Season 2 kicking off tonight, consider yourself warned: things are not slowing down one bit.
In the first season finale, Dr. Hannibal Lecter (Mads Mikkelsen) had successfully framed FBI Special Agent Will Graham (Hugh Dancy), so when we meet them again Lecter is working with the FBI – much in the same capacity as Will did – and Will is sitting in jail, trying to figure out how to get out and prove that Hannibal is not the good guy he's pretending to be.
To find out more, series creator Bryan Fuller, gave TV Fanatic a peek into the compelling relationship between Lecter and Will, as well as what we can expect with the supporting cast and recurring guest star Gillian Anderson.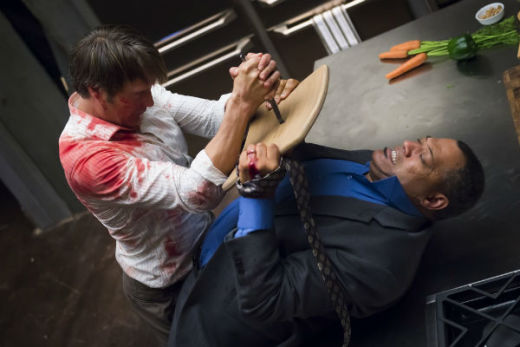 TV Fanatic: I'm curious if you think these guys good for each other? Is Hannibal good for Will? Is Will good for Hannibal? Even now?
Bryan Fuller: I think whether they're good for each other or not is dependent on whose point of view that you're looking through. I think Hannibal would say absolutely, they're good for each other, and I think Will Graham would say that Hannibal is not good for him but has been engaged in the dance and can't kind of break orbit and while he's stuck in that gravitational pull, he's able to realize that there are connections between them that are disturbing and also enlightening.
TVF: At the start of season two, where do we find Will's sanity?
BF: I feel like he's probably as sane as one could be in the circumstances and there is absolutely a realization and a clarity that Will has, early in the second season, that then becomes something more mischievous as he's figuring out how to navigate what he is so clear on now about Hannibal, and how to get what he needs in order to capture Hannibal, who's very, very slippery. So I like that Will has taken a new attitude towards solving the problem that isn't about publicity and isn't about manipulation.
TVF: Season one of any new show is always about finding the right tone, and getting everything right with the characters, which I feel like you guys accomplished pretty fast, but what's been the biggest challenge of season two?
BF: I think the biggest challenge to season two was actually finding the nuances between Will and Hannibal and making sure that that is grounded and rooted in all of the episodes, that every episode is a step in their relationship, and you can kind of see all of these different stages of a bromance being played out between these two gentlemen, and how they go off the radars.
TVF: I love it.
BF: Television's just difficult, because you're venturing into a production without all the scripts written and it's very challenging just to be able to keep your eyes on the road ahead of you when there are so many distractions hitting you from all sides.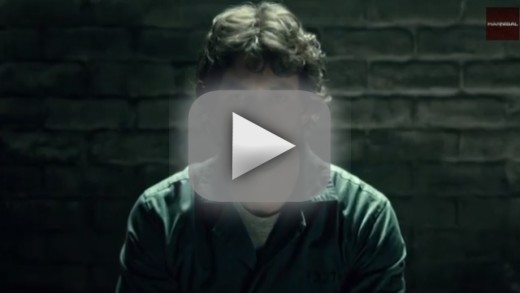 TVF: You now have a show that has the critic's attention and audience's attention, whereas some of your past shows, the critics would love it, you'd always have a core fan base, but they weren't maybe as big of hits as this is shaping into being. Does that help at all?

BF: For me, it's sort of inconsequential, in a way, because in terms of the storytelling it's inconsequential, because you're sitting there and you want to do as great of work as you're capable of doing at any given time, so I'm always the toughest critic…there are things that I look at and I just sort of go mad, because it's not good enough. So I'm probably the biggest critic in that I live in such terror of mediocrity that I'm constantly trying to evade it. Whether I am successful at that is to be determined.

TVF: Are we going to get more of the supporting cast this season as far as their lives in the show? Like Scott Thompson's character. I love that he's a part of the show…

BF: I adore that man.

TVF: I just want to know more about all those characters but I know there's not always time to really dive into their lives too much.

BF: We do spend a little bit more time with them this season than we did last season, and there are more opportunities for humor, with Aaron Abrams (Zeller) and Scott Thompson (Jimmy), and Hettienne Park and the Katz role has expanded this season so we see much more of her, and so we do see those supporting roles kind of being flushed out more.

We get a lot more of Dr. Chilton (Raul Esparza) this season, he's practically a regular character in the season, we see him in a ton of episodes. So it's nice to flush out the world more, and moving beyond Will Graham and Hannibal Lecter. You get Jack Crawford and his wife, we see more of that relationship this year, we see more of Alana Bloom's, beyond just becoming Will Graham's caregiver. So it's nice to have a second season continue to explore characters that we saw just a little bit of in the first season.

TVF: And Gillian Anderson is still around. Can you talk about her part in the second season? I really love that relationship she has with Hannibal.

BF: I do too. I think it's really interesting, I think it's very complicated, and clearly they have a back story that the audience hasn't been exposed to yet that I would love to be able to address an answer in this season. So I just love the idea of, here's this very intelligent woman who's gone through a trauma of her own, realized Hannibal's role in it, and is fascinated, at the same time, she's smart enough to get out of dodge before the bricks start falling.

Hannibal airs Fridays at 10/9c NBC.

Jim Halterman is the West Coast Editor of TV Fanatic and the owner of JimHalterman.com. Follow him on Twitter.

Tags: Hannibal, Interviews, Exclusives