Following a few weeks' of back-to-back episodes, TLC aired only a single half hour of Here Comes Honey Boo Boo last night.
Does that news make you want to drop a few F Bombs? It'll cost you!
On Here Comes Honey Boo Boo Season 3 Episode 8, June Shannon came up with the idea to clean her children's mouths by having them place a quarter in a swear jar every time they cursed.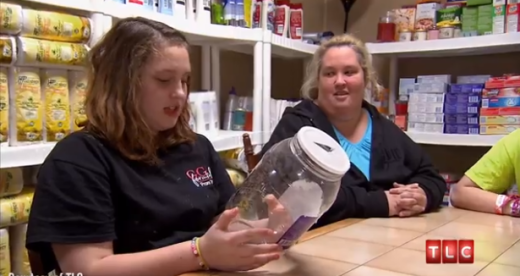 The winner would earn a steak. The person with the most money lost would be forced to eat a salad.
After everyone tried out a few words to learn what qualifies as a swear (Alana likes saying  "booger-licker," "fart face" and a for telling people to "shut the front door"), the contest was on!
Chickadee was set on making a pot pie and was told by Pumpkin that ham comes from bears. She refrained from cursing her sister out, however, either due to the jar or because she didn't know the truth herself.
Chubbs, meanwhile, got caught with a four-letter words and had to pay up the 25 cents despite her defense of being under "durets."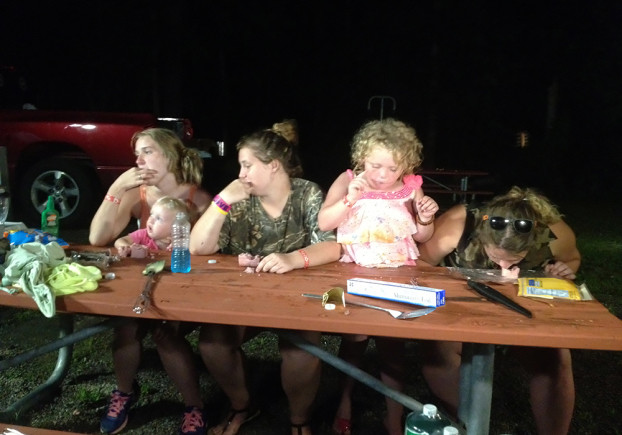 Sometimes, it feels like I'm living in a house full of truck drivers.… No offense to truck drivers.

Sugar Bear
Sometimes, it feels like I'm living in a house full of truck drivers.… No offense to truck drivers.

With her kids still cursing up a storm, June upped the ante from a quarter to having to eat raw vegetables, later falling prey to her own scheme and downing some broccoli.

Because she HATES vegetables to such a degree, June later offered to give Sugar Bear "a little bit" if he ate the carrot on her place. We are now gonna go throw up a little bit...

In the end, June lost, dropping 67 of the family's 127 total curses.

Sugar Bear managed to stay completely clear the whole time, winning himself a steak dinner in Milledgeville and the angry looks of his kin, who sat at their places with a salad in front of them, as untouched as we wish June had been her whole life.

Matt Richenthal is the Editor in Chief of TV Fanatic. Follow him on Twitter and on Google+.

Tags: Here Comes Honey Boo Boo, Reality TV, Reviews