It's unclear what was more surprising about Here Comes Honey Boo Boo last night:
That June enjoys couponing more than sex.
Or that someone actually wants to have sex with June.
That someone, of course, is Sugar Bear, who opened the evening by complaining about his lack of affection. He even suggests he and June have another child, which prompts the best/most disgusting line of the season.
"My biscuit is closed for business."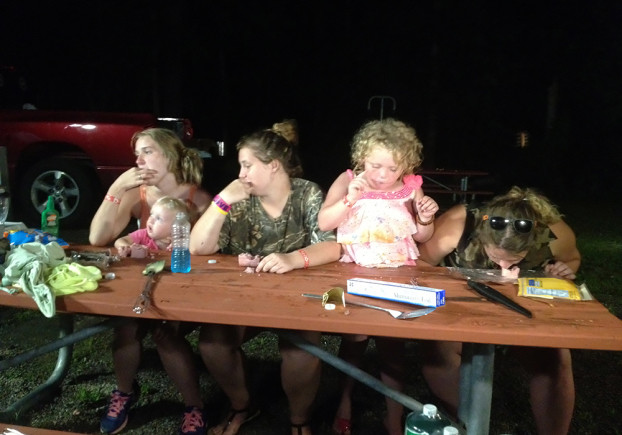 Sometimes, it feels like I'm living in a house full of truck drivers.… No offense to truck drivers.

Sugar Bear
Sometimes, it feels like I'm living in a house full of truck drivers.… No offense to truck drivers.

In a mature response to the spark going out in their love life, Sugar Bear suggests marriage counseling, to which June eventually agrees.

Once there, though, June admits that she enjoys couponing more than sex, which throws a damper on the couple's progress.

Still, the Bear takes the sessions seriously and says he'd just be happy with a snuggle or a kiss goodnight. This isn't all about knocking overweight boots. June agrees and later makes good on her promise, giving her man a smooch in bed.

On Here Comes Honey Boo Boo Season 3 Episode 7, meanwhile, we go from counseling to camping.

That's right, the girls are forced to leave technology behind as they head to High Falls State Park.

Once there, the family has difficulty putting up a tent, whil Sugar Bear springs a fake rattlesnake on June as she lounges on an air mattress. Fun times!

It's then time for fishing, which means it's time to not catch anything, which is followed by Pumpkin putting together a nice dinner of hot dogs and canned corn.

Naturally, though, we can't have an episode of Here Comes Honey Boo Boo without talk of bodily functions. In this case, it' the girls' desire to try peeing standing up.

They use Sugar Bear's gas funnel and… yeah. There's no need to discuss this any further.

In the end, June says the trip as a win-win because everyone is alive, while Pumpkin kisses the fly-infested ground when she gets home and sums up the adventure thusly:

"I think parents should take their kids camping once just to teach them never to take their kids camping."

Matt Richenthal is the Editor in Chief of TV Fanatic. Follow him on Twitter and on Google+.

Tags: Here Comes Honey Boo Boo, Reality TV